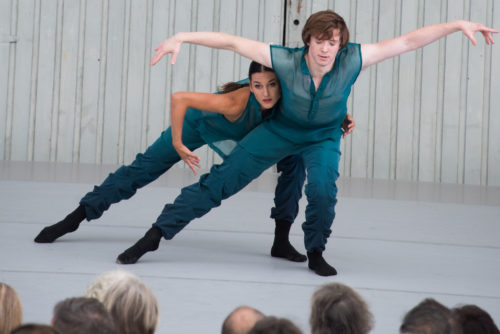 Cape Dance Festival
Back for the seventh year, Cape Dance Festival presents one evening of dance at the Province Lands Outdoor Amphitheater in Provincetown, MA. The program will include some of the highest caliber American choreographers, dancers, and dance companies.
Cape Dance Festival was conceived by two longtime performing arts professionals, Stacey-Jo Marine and Liz Wolff, whose passion for dance and ability to organize arts and media events has been proven over their twenty-year career span. Co-founder Liz Wolff says, "We are seeking to form community relationships through the enjoyment of dance and are dedicated to bringing world-class dance to the residents and visitors of Cape Cod through education, altruism, and performance."
Cirio Collective • Jeffrey Cirio, Lia Cirio, Isaac Akiba, Paul Craig, Emily Mistretta
The Wondertwins
Bill Young / Colleen Thomas & Co. • Lindsey Jones, Burr Johnson
Eryc Taylor Dance • Nicole Baker, Chris Bell
Chalrar Monteiro • Alvin Ailey American Dance Theater, choreography by Charr Monteiro, with dancer Javon Jones
Limón Dance Company • Kristen Foote, and live violin accompaniment by Xiao Quan
Cunningham Centennial Solos: Provincetown* • Chalvar Monteiro, Lindsey Jones, Burr Johnson
*Courtesy of the Merce Cunningham Trust as part of the Merce Cunningham Centennial
And Sunday July 28
Cape Dance Festival presents "The Billy and Bobby Show", another Wondertwins spectacular; a specially chosen matinee program for families from the Cape to enjoy with their children. The interactive program takes place at the WHAT for Kids Tent in Wellfleet.
Ticket Information