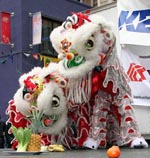 Gund Kwok: Lion Dance for the Chinese New Year
Boston's Gund Kwok, the only all-women lion dance troupe in the U.S., kicks off the Lunar New Year celebration at the Peabody Essex Museum, accompanied by the 6-9 year olds of the Gund Kwok Lion Cubs.
The Lion Dance is enacted by two dancers. One handles the head, made out of strong, but light materials like paper-mache and bamboo. The other plays the body and the tail under a cloth that is attached to the head. A Buddha teases and accompanies the lion with a fan. The Buddha figure is significant because it represents a temple monk, who trained the lions and started the tradition.
Happy Year of the Monkey!
Ticket Information