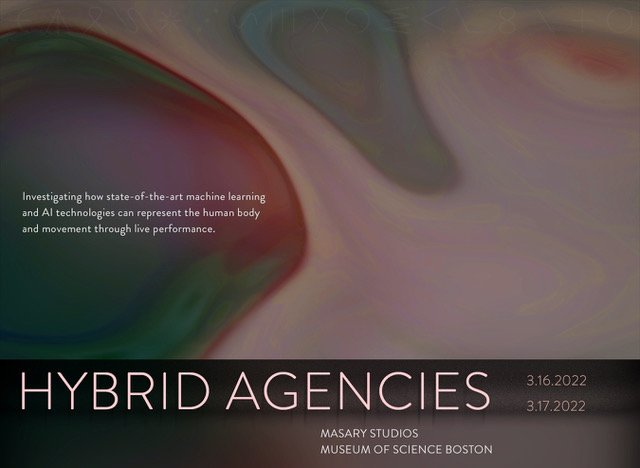 Hybrid Agencies
Presented by MASARY Studios / Museum of Science
MASARY Studios, in collaboration with New York-based choreographer Mike Esperanza, presents "Hybrid Agencies" with the Museum of Science, Boston on March 16 and 17, 2022 as part of the Museum's SubSpace Winter/Spring 2022 season lineup.
'Hybrid Agencies' investigates how state-of-the-art machine learning and AI technologies can represent the human body and movement, as well as the ways that such systems misrepresent or fail to represent the human body.
This three-part event starts by inviting audience members to enact some facets of these technologies before the dance performance featuring original sound score and AI-generated video by MASARY's Ryan Edwards and Jeremy Stewart, PhD. After the performance, audience members will join the artists for a conversation that introduces how these technologies work and how we might begin to think about them in light of their omnipresence and fast growth and development, through the lens of creative practices and art making.
Ticket Information