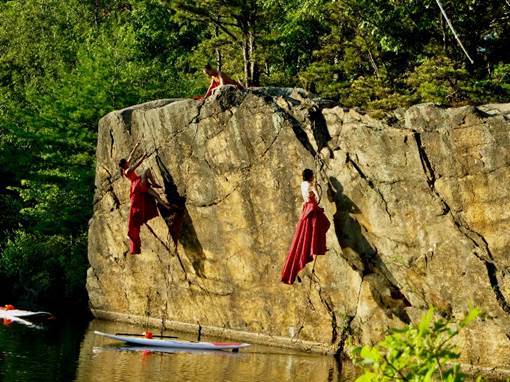 Quarry Dance VIII
Presented by Windhover Performing Arts Center
Windhover Performing Arts Center has presented dynamic and exciting Quarry Dances at various quarries located throughout the Cape Ann area for the past seven years. This year, Windhover returns to the pristine site where the first quarry dance was performed 8 years ago. Situated in front of the ocean as the backdrop, Babson Farm Quarry was once an active granite quarry which was abandoned in 1929, thus opening the way to its life as a site of natural beauty.
As in previous years, the remarkable Dušan Týnek Dance Theatre will create a site-specific modern dance around the quarry that features ledges, cliffs and stunning views. As in previous years, Russ Gershon, multi-instrumentalist, composer, and leader of the bands Either/Orchestra and Lookie Lookie in the Boston area will accompany all four performances.
Performances of Quarry Dance Vlll are free and open to the public. No reservations are necessary, however all performances are weather dependent. If there is rain, that performance will be cancelled. The duration of each performance is approximately one hour and fifteen minutes.
Parking will take place at Windhover Performing Arts Center at 257 rear Granite Street for all four performances. There are shuttles provided by Beauport Ambulance Service starting one hour before the performances which will transfer people to the site, and then return shuttles after the performances for 30 minutes.  It is a short walk from Windhover to Halibut Point State Park, for those who wish to walk… about ten minutes.
Volunteers will usher the way for those on foot. (Please note that parking will not be available at Halibut Point State Park, since the lot fills up fast, plus there is a mandatory fee for parking.)
Seating is on a first-come first-served basis. Chairs will be provided, although you are welcome to bring your own. You are encouraged to bring blankets and sit on the ground in front of the quarry if you like. Feel free to bring water. Space is limited, and seats cannot be reserved.
For further information, please check the Windhover website at www.windhover.org
Ticket Information