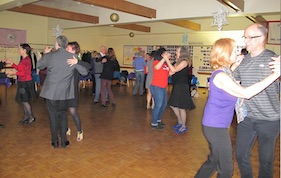 SUNDAY AFTERNOON SOCIAL DANCE PARTIES HOSTED BY DANCE CALIENTE!
Presented by Eileen Herman Haase and Raul Nieves of Dance Caliente
Come to our friendly Sunday afternoon social dance party. We welcome and appreciate all styles of dancing and, whether you are a total beginner or a seasoned dancer. You are celebrated!
While becoming an aficionado in one dance is admirable, we can't decide which dance we love more. Therefore, at our dance parties, you will find a nice mix. It can be Argentine Tango, Waltz, Foxtrots, Swing, Salsa, Merengue and more and we are open to suggestions from our participants!
Are their lessons at our parties? Depends on what vibes and/or requests we are getting. We are always more than willing to teach of few steps. And even better, we look forward to being asked to dance!!!
To make the afternoon even more of a delight, enjoy Eileen's home baked cookies and tea and coffee. If you would like to add a snack to the communal table, all the yummier.
Enjoy our nice large dance floor for you to glide, swirl and/or roll your hips. Come with or without a partner.
Ticket Information