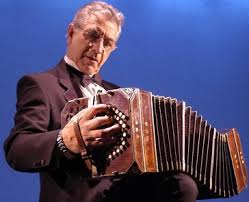 THE TANGO –Raul Jaurena and Friends
Presented by World on Stage, Inc
Raul Jaurena is amongst the best known Tango musicians in the world. Making his home in Argentina and New York, he has won several awards, including the Grammy. He has performed at major venues around the world and been invited to perform at the White House.
He has played with other illustrious musicians like YoYo Ma, Paquito O'Rivera, and Giora Feidman and others. He traveled extensively in Europe with TANGO FIVE and singer Marga Mitchell.
Astor Piazolla once called Paul Jaurena one of the greatest bandoneon player ever.
Margo Mitchell, from Argentina and now shuttling between US and Argentina and Europe, has been a soloist singer with different orchestras around the world and won several major awards, including the winner of the ACE award as Best Musical Production, Life's Tango, I Love Tango, etc.
Cristina, the ultimate Tango dancer, and her partner and other musicians complete the cast of this spectacular presentation of Raul Jaurena and Friends.
Ticket Information