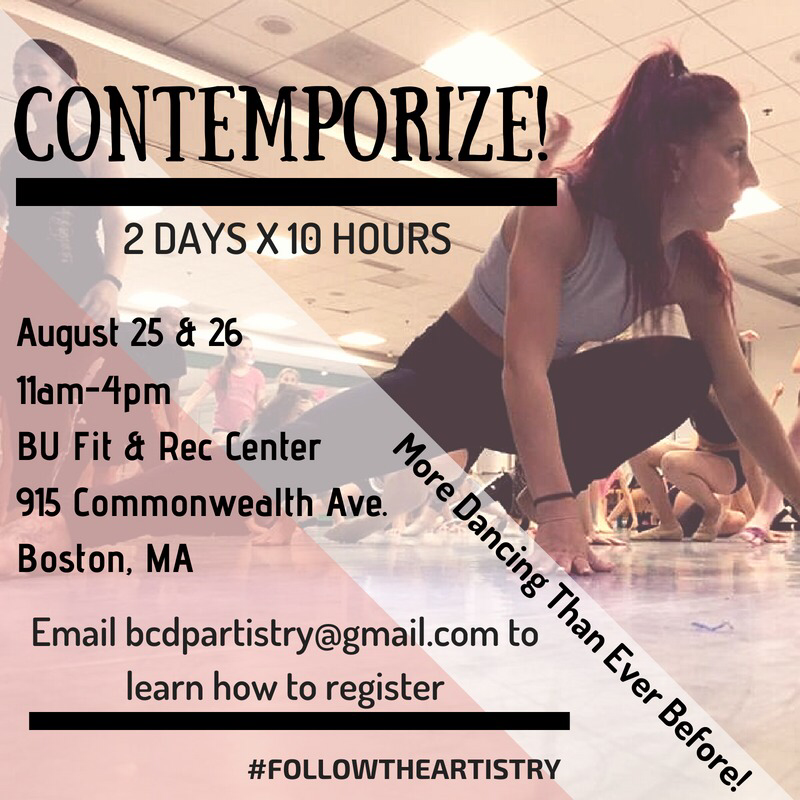 BCDP Presents: Contemporize 2018
CONTEMPORIZE! is BCDP's Summer Intensive. Dancers who participate will experience a full 2 days of challenging classes in a supportive and creative environment. Each year, BCDP brings in top choreographers from NYC, LA, and BOS to provide a variety of classes to movers in the Boston area of all ages. Past teachers include: Teddy Tedholm, Nick Silva, Gage Wayne, Linsey Beth, and many more!
SIGN UP BY AUGUST 10th for $110!
SIGN UP BY AUGUST 20th for $125!
SIGN UP THE WEEK OF OR AT THE DOOR FOR $140!
Email BCDPArtistry@gmail.com to register
Grab a BCDP Shirt for an exclusive Convention price of only $12!
Group Discounts are available!
One Day rates also available!
August 25th and 26th, 2018 at 11 AM-4 PM
BU Fitness and Recreation Center
915 Commonwealth Avenue, Boston, MA 02215
Register at www.bcdpartistry.com
#FollowTheArtistry.
https://www.facebook.com/events/2011758912374281/
Ticket Information