2022 BDA Open Call Audition!
Join BDA for a day of exciting master classes and joyful community building
Sunday, September 25, 2022 9:30 AM- 4:00 PM
Image: Two adjacent headshots. Martha, a pale woman with fringey reddish hair and black glasses, smiles. Melissa, a pale woman with blue eyes and shoulder length blonde hair wears a white sweater and looks serenely at the camera.
9:30-11:30 AM Ballet Embodiment, BDA's first inclusive Open Call Audition master class, reflects BDA's commitment to celebrate all members of the dance community. Taking the best that ballet offers as an artistic expression and honoring its classical roots in nuanced movement, this master class expands the traditional aesthetic to include all dancers who choose to embody ballet. We invite dancers of all abilities, sizes, ages (18+), orientations and gender identities to cultivate strength and grace in a body-reverent environment.
Dancers who are already part of the ballet world can deepen their practice. New dancers, including dancers with visible and invisible disabilities and those who have traditionally felt unwelcome within ballet environments, are very welcome. And choreographers and company directors can consider dancers of all abilities for their season productions.
This team-taught master class is led by Melissa Sallee and Martha Tornay
Melissa Sallée, a classically trained ballerina who studied with Maria Tallchief, Salt Creek Ballet, and Ballet Chicago, codirected Dance Detour, the first integrated, professional dance company based in Chicago. She has taught newly-disabled veterans and those with severe physical disabilities through ReinventAbility and has served on federal, state and local task forces to improve Universal Access, disability rights and access to the arts. She is a member of the BDA Dance and Disability cohort and lives in Vermont, where she has been Artist-in-Residence at Inclusive Arts Vermont.
Martha Tornay has over 3 decades of intensive classical ballet studies with dance masters such as Mme. Gabriela Darvash, Gretchen Ward Warren and Robert Brassel. She performed as a soloist with regional and international ballet and modern companies including Newport News Ballet (Virginia), Israel Ballet (Tel Aviv), and The Robert Kovich Company (NYC). After a rewarding career as a professional dancer, she founded East Village Dance Project (EVDP) in New York City in 1997. She conceived and co-directed The Shell-Shocked Nut, produced and performed at La MaMa Experimental Theater biannually from 2011-2018. A longtime member of the faculty of the Young Dancers Workshop at the Bates Dance Festival, Martha is currently a visiting artist at Connecticut College.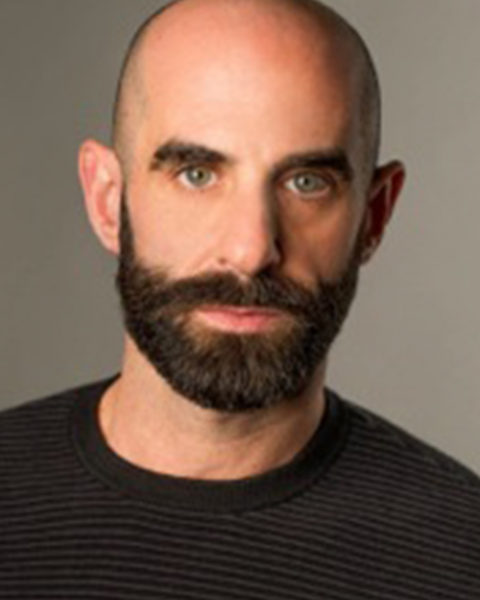 Image: Brian, a bald, pale skinned man with a heavy black beard and dark eyebrows looks directly at camera.
Noon-12:50 PM Contemporary Session 1  taught by Brian McGinnis 
1-1:50 PM    Contemporary Session 2 taught by Brian McGinnis
**these classes are as close to identical as possible. You may only sign up for one session.
This master class draws on both the clarity and passion of canonical modern dance techniques and the intricacy and surprise of contemporary dance strategies that undergird much of current dancemaking. The class will include a segment of prompt-led improvisation to demonstrate dancers' personal language and creativity.
A native of Worcester and graduate of Juilliard and the University of Wisconsin-Milwaukee, Brian McGinnis toured the world dancing in the companies of with Lar Lubovitch, Elisa Monte, David Parsons and Jacqueline Buglisi, Hubbard Street Dance. He joined the Boston Conservatory at Berklee and was honored with the student-nominated Best of Berklee Award (2018) and Conservatory Dance Teacher of the Year (2019) award.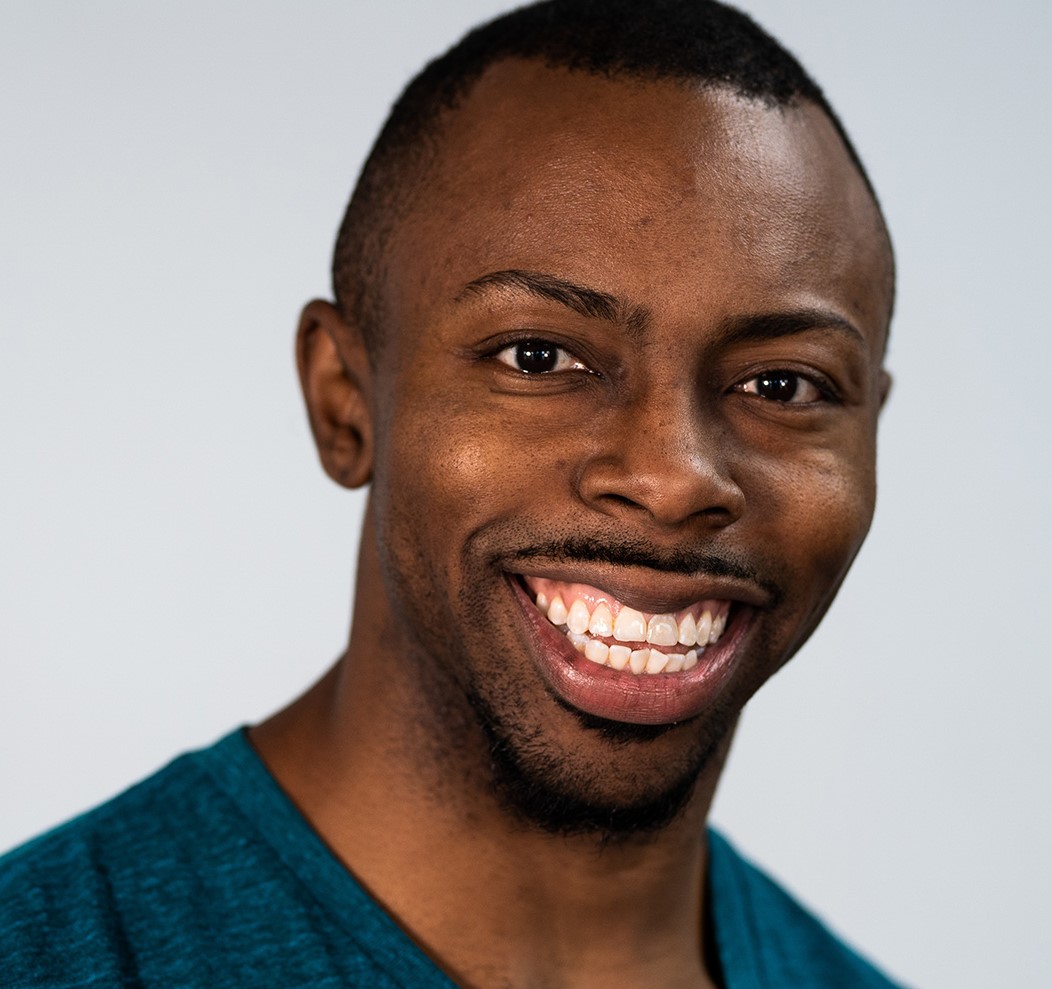 Image: Ruka, a Black man with a thin moustache and close cropped hair, smiles broadly.
2-2:30 PM Commercial/Musical Theatre taught by Ruka Hatua-Saar White
Commercial dancers have to be able to "do it all," and in Ruka White's master class, the many dynamic languages of popular culture will be sampled in a fast-moving class that is suitable for dancers hoping to work in jazz, industry, and musical theatre productions.
Boston Conservatory at Berklee professor Ruka Hatua-Saar White has a foot in both the commercial and concert dance worlds, having worked with stars such as Missy Elliott and danced with acclaimed concert dance companies Dayton Contemporary Dance Company, Philadanco (Philadelphia Dance Company) and the Limón Dance Company.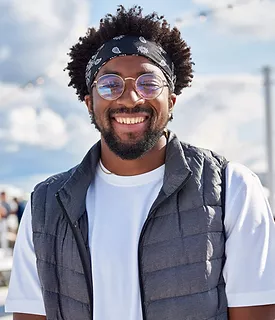 Image: Alex, Black man with a goatee and gold-framed glasses, his curly hair held back by a black bandana, smiles with the blue sky and puffy clouds in the background.
3-3:50 PM Freestyle Hip Hop Foundations  taught by Alex Ambila
This class will highlight foundational elements of freestyle hip-hop, with a focus on bounces & grooves, timing & textures, and creating variation.
Designer and dancer Alex Ambila is Artistic Director of The Flavor Continues, created preserve the root and evolve the street and club dance culture in authenticity, providing a space for the public to experience and celebrate alongside our community through innovative events and education. He is a member of Krump crew BLVCKFLXG and choreography-based crew (characterized as sd.bys.clb.) Alex he is a two-time invitee for Red Bull's Dance Your Style Boston, and has judged and taught in and around the Boston area.
Things to Know
You must be 18+ to participate and will be asked to sign a waiver.
Most classes are limited to 35 dancers, so register early!
Choreographers and company artistic directors will be observing the master classes but no one will be cut and you do not need to be looking for a job to take the classes!
Masks are recommended in light of continuing covid infections, but are not required. Teachers may remove masks to be heard more clearly.
Mass Motion Boston is wheelchair accessible. While dancers with disabilities are particularly invited to take Ballet Embodiment, they are welcome to join any class they choose.
Accessibility requests can be made at registration.
Having problems registering online? Contact crizzo@bostondancealliance.org and Carmen will help you.
Let us know if you need to visit the Mass Motion studio ahead of the Open Call September 25 and we will do our best to arrange it!
BDA members attend free!
Observing choreographers must be either Boston Dance Alliance or Stage Source members and attend free.
Not a member? Take up to four classes for one all-entry registration of $25. Or join now!
Dancers who show an EBT card can participate all day for $10 
Mass Motion Boston is close to Western Ave in Brighton on the bus line and across the river from the Harvard Square red line stop. Free parking is available all day!

Image: register now button
At the same time
Sign up for wellness screenings by Boston's best dance medicine specialists at BDA Dancer Health Day! Screenings are available for dancers of all genres and abilities. More information is here.
Ballet Embodiment, celebrating all members of the dance community, is made possible in part by Valentine Talland and Nagesh Mahanthappa. We thank them for all they do for dance and movement arts!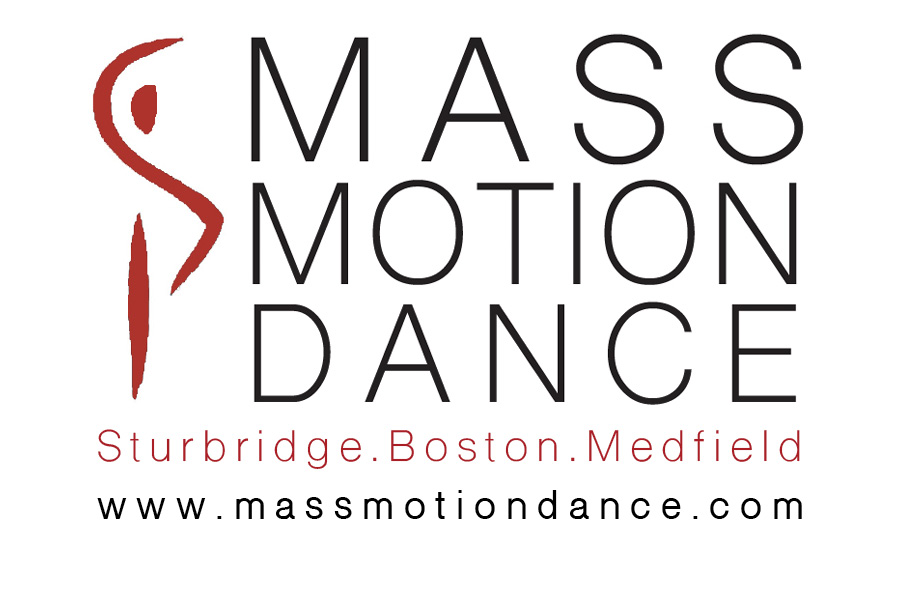 Image: Mass Motion Dance logo
We thank Mass Motion Boston for their partnership and generous hosting of these events!