Portable Dance Floor
The Boston Dance Alliance floor makes dancing possible
outdoors or inside!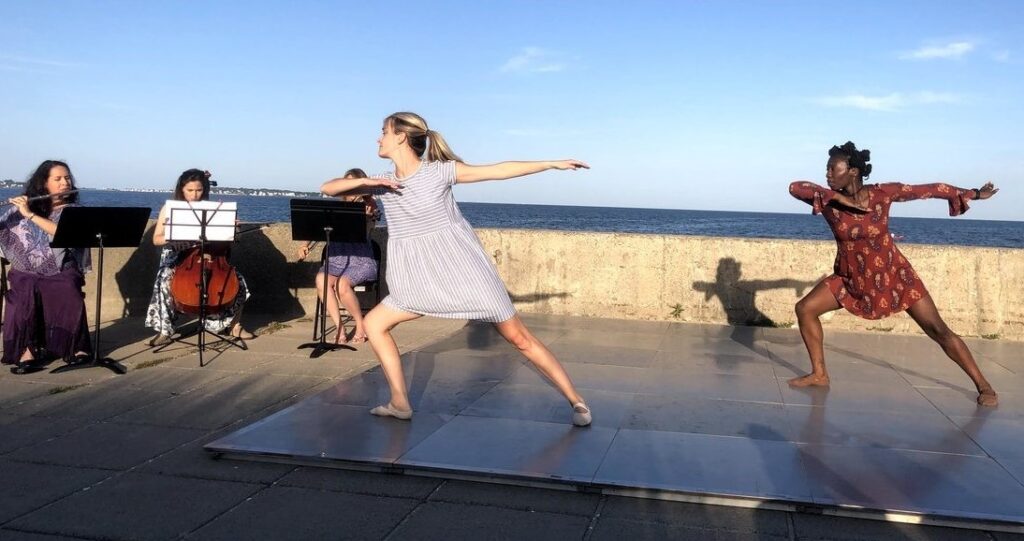 Outdoors, the portable BDA floor can turn a basketball court, grassy lawn or parking lot into a danceable stage.
Inside, the floor makes it possible to present live, hybrid, and virtual performances without renting specialized theatre venues at a time when capacity — and ticket sales — remain limited due to pandemic protocols. * Carpeted floor? Linoleum? Wood over concrete? No problem. The BDA sprung floor makes it safe to dance. 
*check with your municipality for local regulations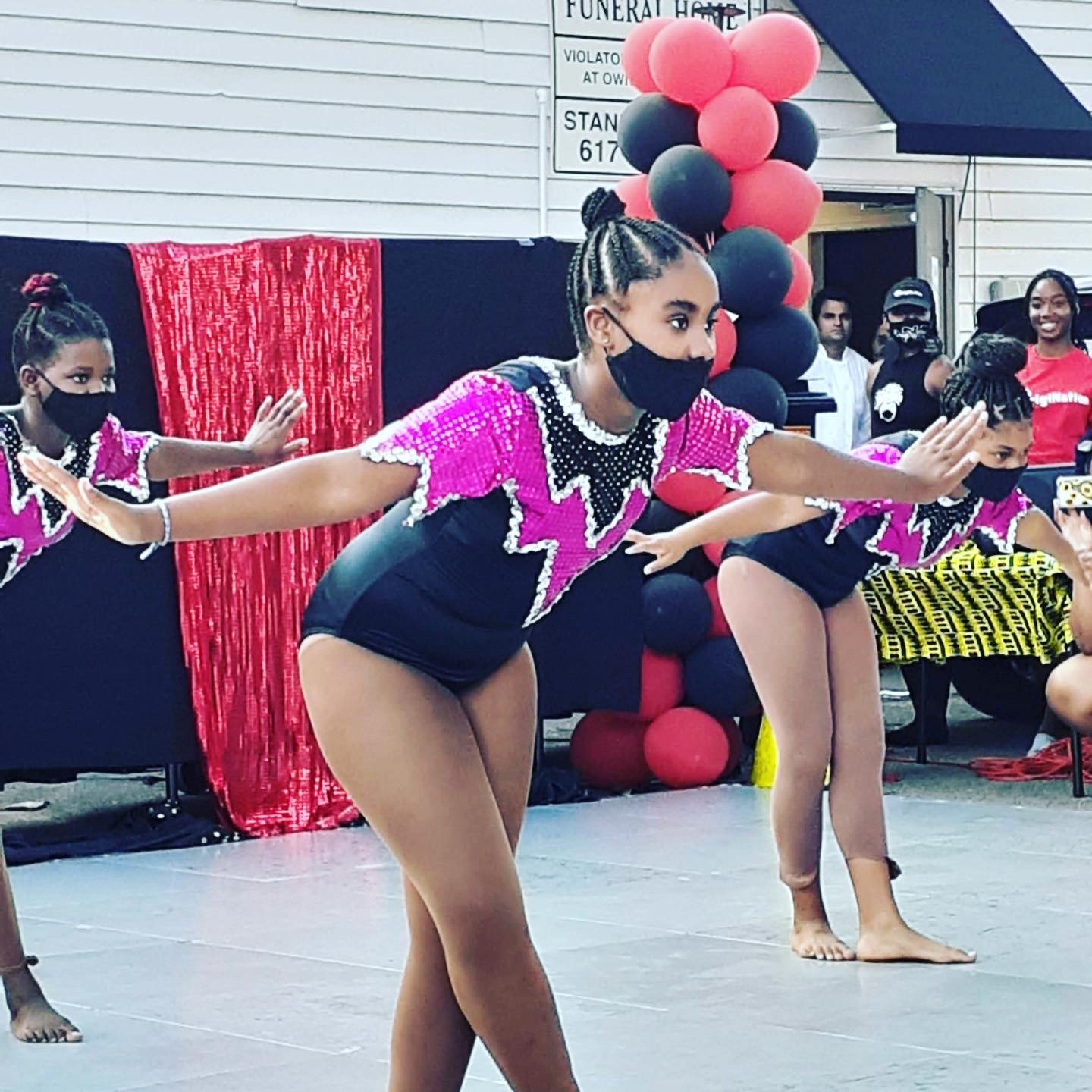 Sizes range from 5'x 5′ to  35′ x 37'6″.
You can go DIY and pick it up yourself, or hire our technician. Your BDA rental contract will describe the type and number of carts you need and the size van or truck you need to transport them.
Watch and see how easy it is to assemble the BDA floor!
---
How Much Does It Cost?
The BDA floor is competitively priced to make it available to as many users as possible. Prices for the BDA floor depend on the size and how long you will have it.
BDA will not charge increased fees for ticketed/paid events. We want to help keep your costs down at this challenging time.
Some typical examples:
One day rental 12.5'x 12.5' for a free event $400 members, $500 non-members
One day rental of 20'x 20' for a free event $600 members, $750 non-members
One day rental of entire floor for free event 35' x 37.5' $850 members, $1,000 non-members
Other costs:
Truck rentals are typically $90-$200 plus a small surcharge for fuel.
Don't want to pick up, assemble and return the floor yourself? Our technicians change $45/hour for delivery, assembly and strike. The largest floor requires a helper charging an additional $25/hour. Boston Dance Alliance does not mark up these fees.
There is a $300 security deposit which is returned to you on return of the floor in good condition.
Using pointe shoes? You will need to add Marley at an additional cost.
Contact BDA as early as possible to determine availability and to get a no obligation quote.
We are happy to help you think through how to budget for a floor rental in your grant applications.
---
or email dcash@bostondancealliance.org for details and a quote.
Buy A Floor
BDA's portable sprung dance floor is a great investment for schools, municipalities, community organizations, clubs, and cultural institutions that want to share dance with a broad range of audiences and participants. Floors are built to your specifications! Let us tell you more
Raise the Floor!
Raise the Floor! makes the Boston Dance Alliance Portable Floor available for use by the Boston Public Schools free of charge.
BDA's unique program helps BPS students of all ages, backgrounds, and abilities develop discipline, artistic expression, cultural understanding, social skills, and physical fitness.
The BDA floor can turn a school cafeteria, basketball court, parking lot, or a grassy lawn into a safe and resilient surface for dance and movement arts of all genres. You can learn more about the BDA floor on this website 
I want to thank you from the bottom of my heart for all that you do for the dance community. Although the Orchard Gardens K-8 Public School is known for its arts programs, the theater we have doesn't always give justice to the work we create with our students. Having the portable dance floor for this event allowed our students to feel the grandeur of what it is like to perform on a real stage. It also afforded my students and the community the opportunity to witness a professional dance company rehearse and perform. Truly a memorable experience.     —  Jason Jordan, Teaching Artist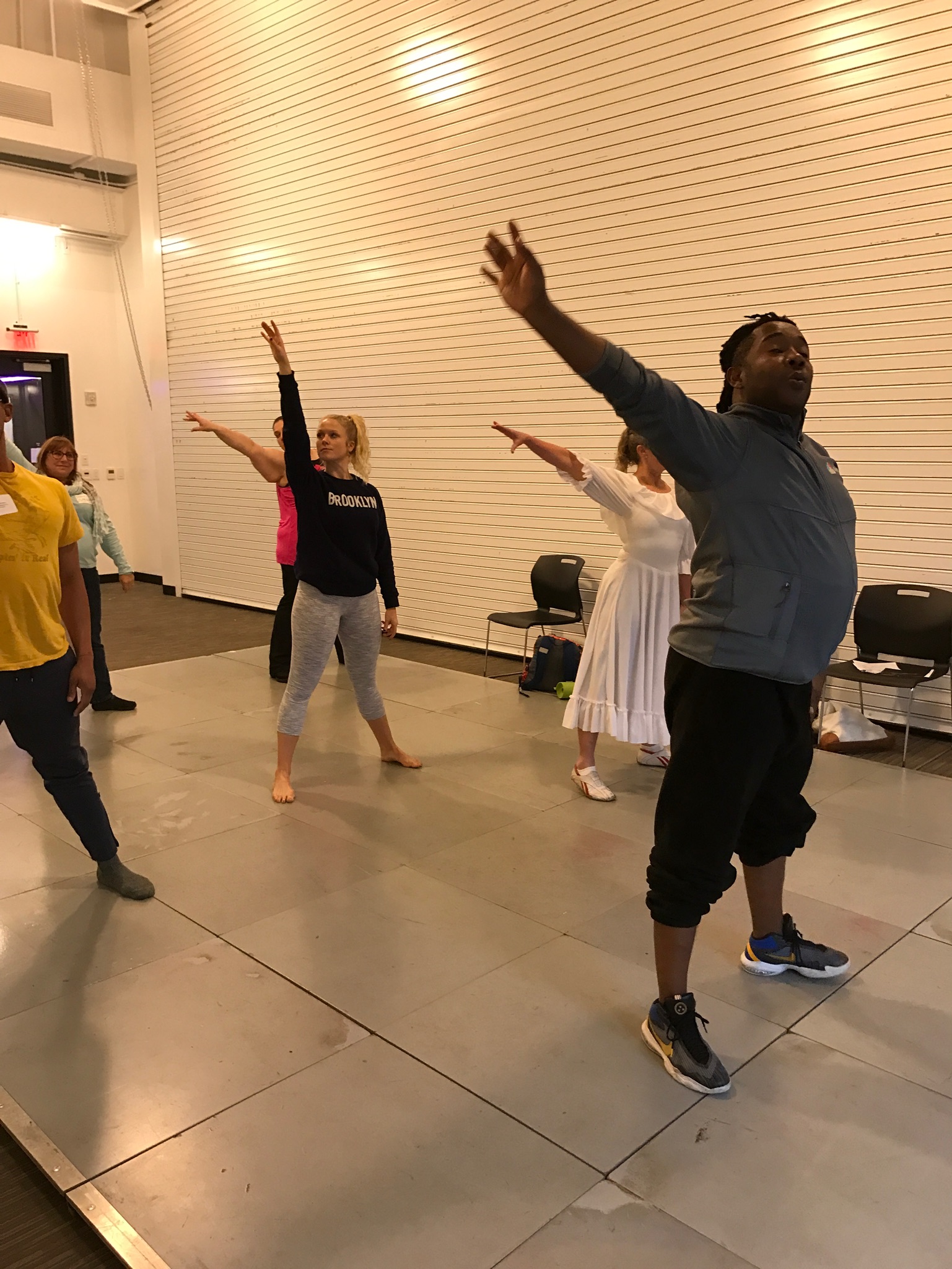 BDA's turn-key program provides the floor, transportation, set-up, inspection, and removal to a participating K-12 Boston public school for a two-day booking.
"We are excited about our partnership with the Boston Dance Alliance and its "Raise the Floor!" program. It's very exciting to be in a group of kids and see that light come on in their faces; to see how it sparks their creativity and passion. Closing the opportunity gap is not always about getting students to read more: sometimes it's about getting them up to dance."
–Myran Parker-Brass, Executive Director for the Arts for Boston Public Schools
We thank our generous donors — including an anonymous family foundation committed to enhancing education for all our students — who have made all of this possible!
Raise the Floor! Honor Roll
Floor Supporters ($1,000+)*

Boston Public Schools (BPS) Arts Expansion Fund at EdVestors
Erinn King, in honor of Cleo B. King and King Massabni
Elin McEllin
Elaine Shannon
James K. Spriggs, in honor of Sarah Mae Gibbons and Kathleen Nasti
Adopt a Panel ($500-999)**
Laura Howenstine, in honor of Barbara Howenstine
Eve Rounds
Raise the Floor! Honor Roll ($100-499)
Nathaniel Adams
Phil Ayoub
Ruth Birnberg
Rebecca Caper
Mary J. Carbonara
Christopher Clark
Esther Kaplan
Eliza Mallouk
Dan Yonah Ben-Dror Marshall
Janet McHallan
Christina Mathers
Jeannette Neill
Margot Parsons
Rachel Riccardella
Martha Robinson
Jody Weber
Conna Weiner
Please consider joining these generous donors! The more we raise, the more times BPS will be able to take advantage of this very special resource.  Every gift will help enrich the education of Boston's students through the arts.
To learn more,  click on the donation page here
Support BDA's partnership with the Boston Public Schools and its support for dance across Boston by making your generous contribution now