Boston Dancemakers Residency
The Boston Dancemakers Residency supports Boston-area dance artists who are striving to develop, adapt or reinvent their creative process.
Produced through a partnership between Boston Dance Alliance (BDA) and Boston Center for the Arts (BCA) the residency serves as a laboratory for ideas that are in the exploratory phase and need dedicated time and space to be fully realized. Designed to promote artistic growth and the development of original ensemble work, dancemakers will be offered support for research, development, rehearsal, financial and production phases of their project.
Resources include a regional three-day retreat, eight weeks of intensive studio time, discounted rehearsal space, dancemaker and collaborator stipends, production and marketing support for work-in-progress showings, and rehearsal pay for up to six dancers.
The Boston Dancemakers Residency is adjudicated by an independent panel based on the artist's video sample, proposed concept, and the potential impact on the development of the artist's career and risk taken in the creative process.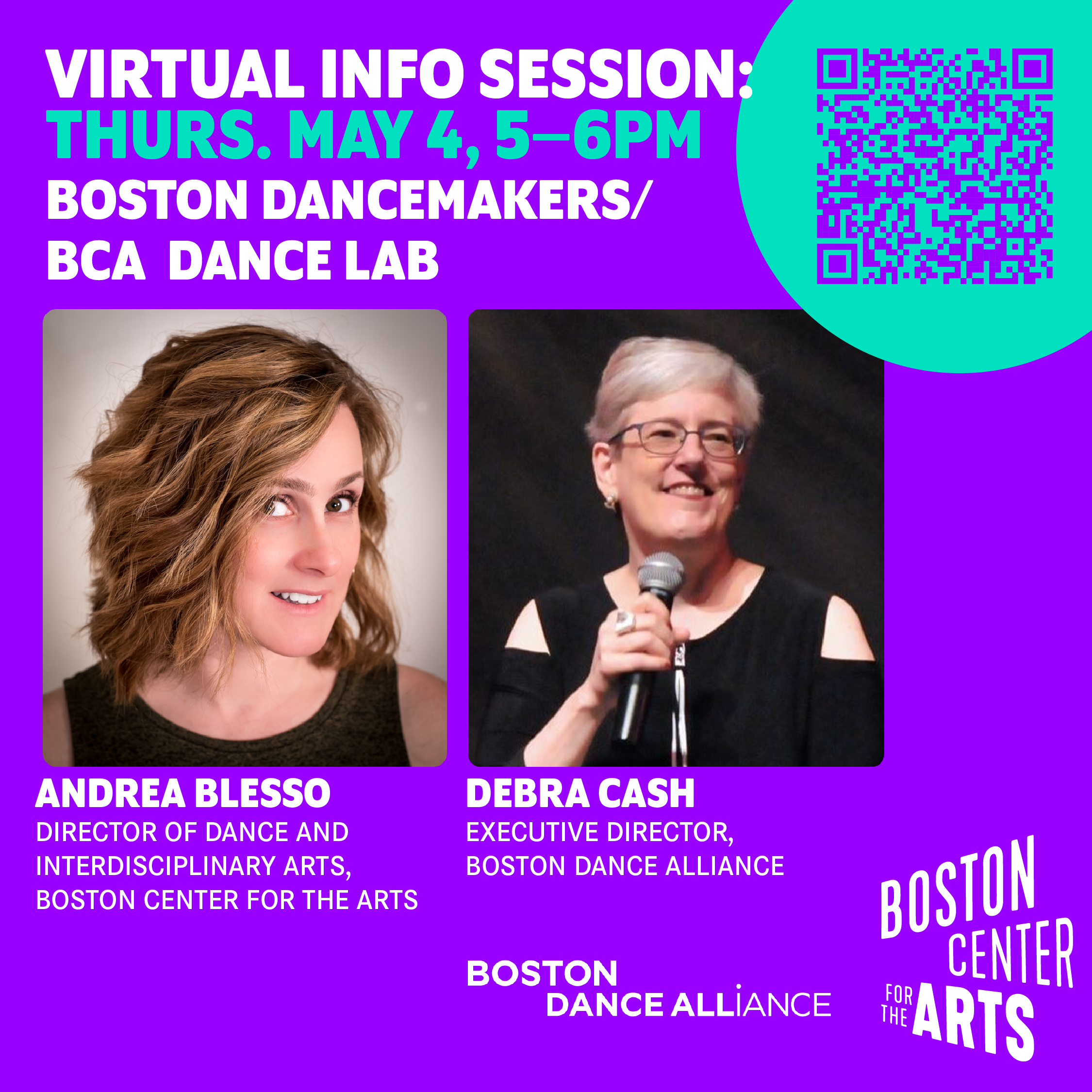 AND WE LOOK FORWARD TO EXPERIENCING THE WORK OF
2022-23 BOSTON DANCEMAKERS RESIDENCY GRANTEES
Continuum Dance Project (CDP), in a new evening-length work will explore the multi-layered connection with Michael Alfano's interactive sculpture "Cubed." "Cubed" is built like a jigsaw puzzle, consisting of nine moveable pieces. Each piece is pigmented with a different skintone, representing individual diversity within a united community. Fitted together they form a four foot by four foot face, depicting a male image on one side and an inverted female on the other.
This new cross-disciplinary dance will challenge audiences to consider the nuances of race and the label of gender; while empowering them to interact with, touch, and take ownership of the work. This project will feature four diverse female dancers, with family backgrounds from The Dominican Republic, Haiti, South Korea, The U.S. Virgin Islands, and United States. Along with female choreographers Adriane Brayton and Fernadina Chan, this creative team will explore race and gender from a female perspective, contrasting and harmonizing with the sculptor's intention.
The Theremin Vignettes by Jessi Stegall
Directed and choreographed by Jessi Stegall, The Theremin Vignettes is an evening-length dance-theatre production set to and inspired by the music and life of thereminist Clara Rockmore. Despite being credited as the best theremin player to have ever lived, Clara Rockmore, a Lithuanian-Jewish woman and music virtuoso, remains under-recognized for her immense contribution to electronic music. The Theremin Vignettes is an ode to Clara and her beautifully bizarre music.
Set in the form of choreographic vignettes, the piece explores themes of grief, remembrance, and devotion through theatrical interpretations of real events from Rockmore's life. Each vignette is set to one of Rockmore's arrangements of classical scores for theremin. Audiences will walk away with gratitude for the bizarre and a new favorite music genre.
The Boston Dancemakers Residency is made possible with support from the Aliad Fund at The Boston Foundation, Liberty Mutual Foundation, Mass Cultural Council, and National Endowment for the Arts.