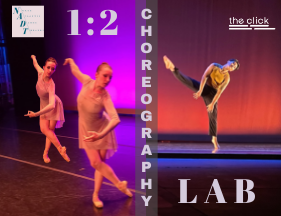 1:2 Choreography Lab Digital Performance
Presented by North Atlantic Dance Theatre
The 1:2 Choreography Lab residency explores the interconnectivity of thought and creativity through music and movement.
Since 2015 North Atlantic Dance Theatre has been commissioning and supporting local artists to create new works in a unique open environment. Collaboration opens the mind, opens the imagination and allows artists to grow within their craft.
Filmed at the Strand Theatre in Dorchester, the digital performance features two contemporary pieces choreographed by North Atlantic Dance Theatre's Lucy Warren-Whitman & The Click's Kristin Wagner. Set to music by Kevin McCarter for viewing on your tv or phone.
Ticket holders can watch any time on our website between July 23 and August 6.
Ticket Information