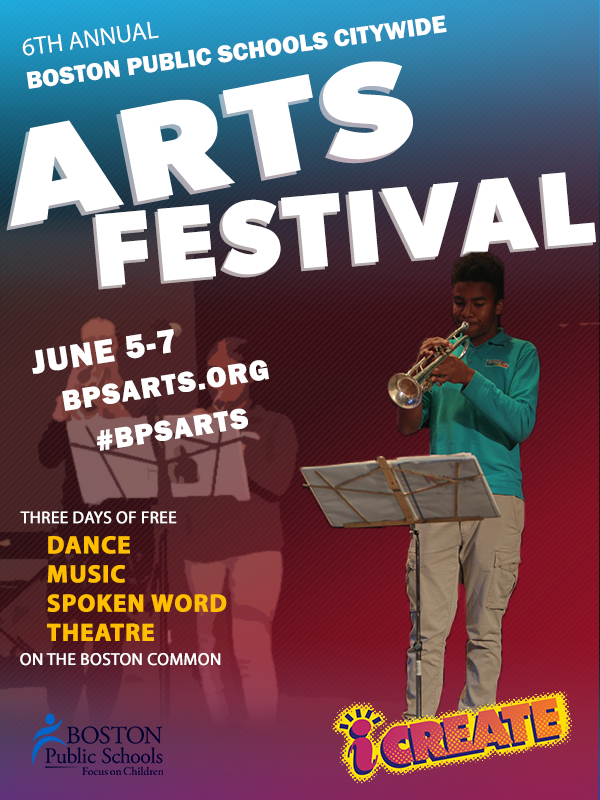 6th Annual Boston Public Schools Citywide Arts Festival
Presented by Boston Public Schools
Join us in June as over 700 student performers take over Boston Common!
Presented in collaboration with the Boston Parks Department, our annual 3-day event presents music, dance and theatre ensembles at the Parkman Bandstand. All are welcome to cheer on our city's talented youth in our most famous park.
Dance Stage is June 6.  Boston Dance Alliance is proud to be providing our wonderful portable floor to BPS' student dancers free of charge through Raise the Floor! Please consider supporting this valuable program!
10:30-10:50: Curley Ambassadors of Dance, Kim Taylor Knight, Director
10:50-11:05: Mildred Dancers, Sadie Soto, Director
11:05-11:20: Edison Step Team, Janelle Hoffman, Director
11:20-11.35:  Condon Dancers, Rene Martin, Director
11:35-11:50: Edison Poetry/Spoken Word Club, Veronica Leonard, Director
11:50-12:05: Umana Dance Teams, Paula Terenzi Byrne, Director
12:05-12:25: Edison Voices of Inspiration, Janelle Hoffman, Director
12:25-12:40: Josiah Quincy Elementary School Dance Team, Kerri Glennon Young, Director
12:40-12:55: Mather Movers, Bethany Lynch, Director
12:55-1:10:  The Eliot Dance Theater Works, Sean Murphy, Director
1:10-1:25: Orchard Gardens Dance, Jason Jordan, Director
Ticket Information