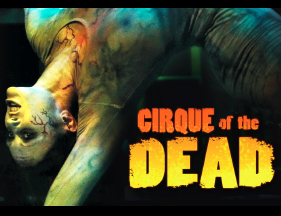 Cirque of the Dead
Presented by Boston Circus Guild
Join us this Halloween season for Cirque of the Dead, a naughty nightmare of circus spectacle!
This year, we turn the page on a new chapter and invite you to a grim Choose Your Own Adventure – zombies, vampires, haunted delights and other magical creatures will fill the evening with never-before-seen aerial acts, acrobatics, and more. This seductive adults-only Halloween horror spectacular is not for the faint of heart, but is filled with as much humor as it is with gore.
Immerse yourself in the festivities while performers suspend themselves above you and lurk all around the venue. Fall under the spell of the high-energy Synthrock and nerd-nostalgia band Minusworld and dance the night away to their live music. Join forces and help seek the light in a world of darkness and mischief.
This show is 18+ only, due to graphic / disturbing content.
Please note that this production uses haze and strobe effects.
Ticket Information