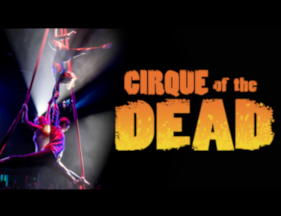 Cirque of the Dead
Presented by Boston Circus Guild
Join us at the Arts at the Armory in Somerville for an evening of astounding original circus acts, including aerials, acrobatics, contortion and more. This immersive adults-only Halloween spectacular blends creepy with campy and horror with humor – it's not for the faint of heart!
This year's show tells the story of the Boston Circus Guild's intrepid ghost-hunting team, who explore the twisted history of Somerville's most haunted historic landmark in hopes of producing the first truly paranormal podcast. But they get more than they bargained for when the spirits do more than just whisper into the microphone…
Enjoy an incredible view of circus performers suspended above you and sinister, otherworldly beings lurking all around the venue. The action happens on all sides, every spot in the theater is a unique experience!
This show is 18+ only, due to graphic / disturbing content. Please note that this production uses strobe effects.
Ticket Information