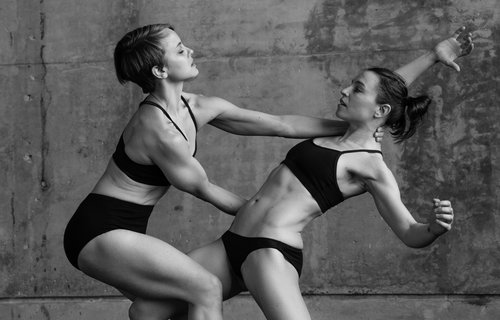 Doppelgänger Dance Collective: THE FIRST FOUR Concert and Symposium
Presented by Creative Arts Council, RISCA, Arts@Brown and Doppelgänger Dance Collective
The concert features four newly commissioned dance works created specifically for this innovative duets company by an esteemed group of local and national dancemakers: Heidi Henderson (RI), Paul Singh (NYC), Sydney Skybetter (RI), and B.J. Sullivan (NC). The dances will be accompanied by a string ensemble led by DDC's musical director, cellist Adrienne Taylor.
Surrounding the presentation of these four new works, the collective is working with Mellon Postdoctoral Fellow in Dance Studies Noémie Solomon to plan a rich dance and humanities symposium focused on choreography, creative process, and collaborative partnerships.
The symposium component of THE FIRST FOUR will include master classes taught by the four commissioned choreographers and a moderated public discussion with the contributing artists and honored guests titled "Sounding Dance: Conversations on Creative Exchange". Master classes and public discussion are free and open to the community.
Open Conversations | Performances
Ticket Information