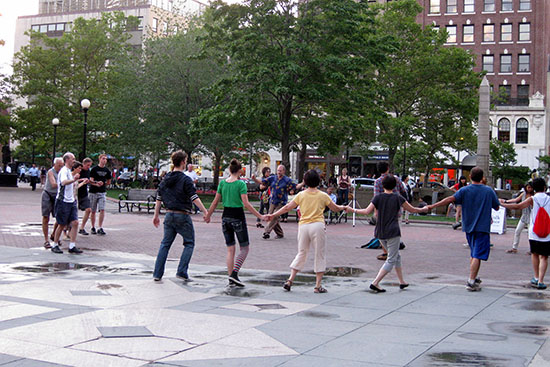 Folk Dancing by the Fountain
Presented by Folk Arts Center of New England
Come cool off by the fountain on the plaza in front of Trinity Church! A Boston tradition since 1971, FAC's free outdoor summer folk dances in Boston offers basic instruction and dancing for all, sometimes accompanied by live music. It is not necessary to have previous dance experience or to attend with a partner. Beginners, singles, all ages welcome!
Expect to learn a wide assortment of dance routines. The weekly repertoire can consist of social dances from the United States, Canada, Mexico, South America, Europe, the Middle East, Russia, Ukraine, South Africa, Japan, the Philippines, and the Balkan, Baltic, and Mediterranean regions.
For the final word on cancellation of an outdoor dance because of bad weather predictions or other unforeseen reasons, call 781-438-4387 after 5 pm that day , or check Folk Arts Center webpage.
Ticket Information