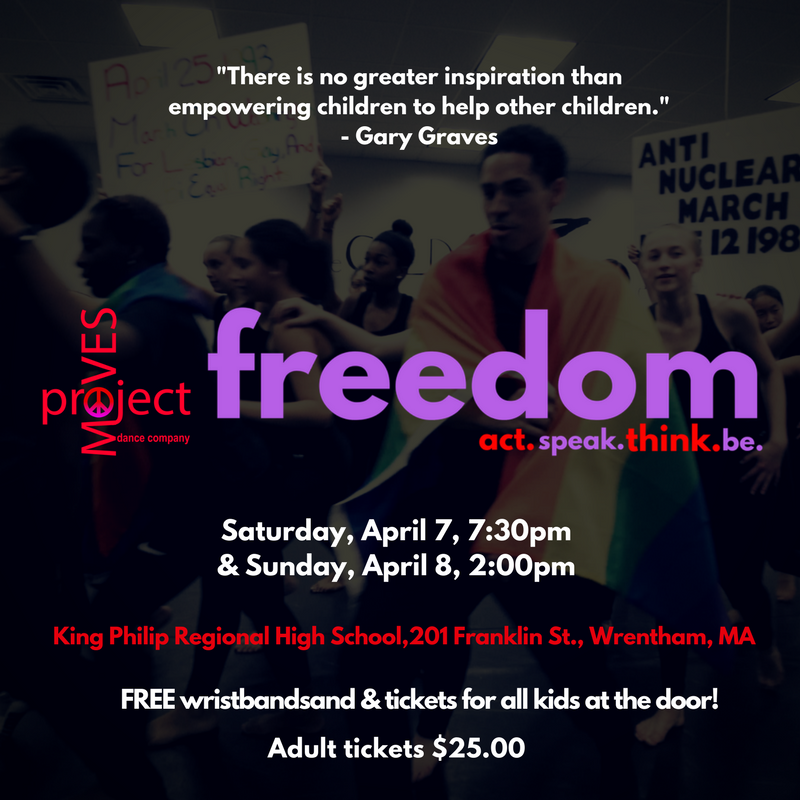 FREEDOM act. speak. think. be.
Presented by Project Moves Dance Company
Project Moves Dance Company is proud to announce its first production of the season, "FREEDOM act. speak. think. be.," April 7, 2018, 7:30 P.M. and April 8, 2018, 2:00 P.M. at King Philip Regional High School in Wrentham, MA. Project Moves celebrates the human spirit and integrity with a diverse collective repertoire of riveting performances sending messages of hope and optimism.
Through the creative vehicle of dance, the youth artists highlight contemporary social issues and bring focus to human rights. "FREEDOM" celebrates children empowering other children to take a stand for what they believe in.
For more information on Project Moves, visit www.projectmoves.org. The performance promises to uplift you, awaken your spirit and empower you to act. speak. think. be.
FREE tickets and wristbands at the door for all kids, adult $25.00. Please visit www.projectmoves.org to pre-order adult tickets.
Ticket Information