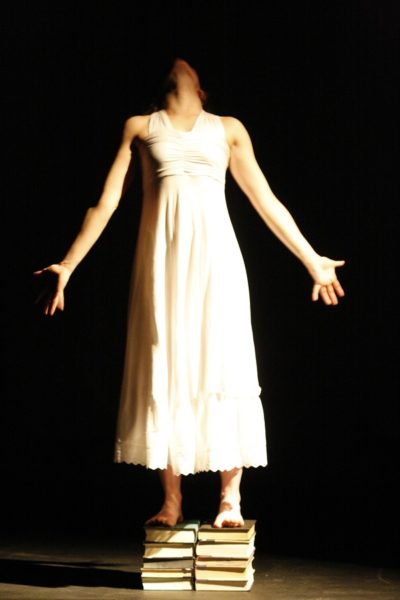 Lida Winfield In Search of Air: Growing Up Dyslexic
Presented by Salem State University
In this dance/theater performance based on her experience growing up with a learning disability, Vermont dancer, choreographer and spoken word artist Lida Winfield shares the gifts and heartache that accompanied her struggle to learn to read – which did not occur until her early twenties.
The evening includes a discussion with Lida Winfield immeidately following the performance.
Lida Winfield is an accomplished dancer, choreographer and spoken word artist. Since 2006 she has created original solo, duet and group work; merging storytelling, dance and visual art to create captivating and poignant performances that have taken place on and off the stage. Lida has traveled nationally and internationally as a performer and educator working with diverse populations in conventional and unconventional settings. In 2011 she earned a Master of Fine Arts in Interdisciplinary Arts from Goddard College with a focus on the transformative power of the expressive arts.
Lida develops and creates dances that are quirky, provocative, and physically honest. Lida challenges herself and her audiences to participate in dance as an open dialogue. Her art and her choreography are creations which tell stories, ask questions, explore limits, and celebrate beauty in what is awkward, raw, and vulnerable. She is inspired by the human capacity to cope, to imagine and to transform. Her work is informed by wilderness, socioeconomic divides, disabilities, access, the search for place or home, the magical and the quiet details of everyday life.
Ticket Information