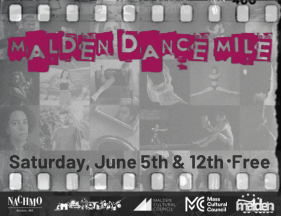 Malden Dance Mile
Presented by Monkeyhouse in collaboration with NACHMO Boston
The Malden Dance Mile is a free outdoor event featuring the work of 26 local choreographers. Bring a chair or a blanket to sit and watch dance films created during NACHMO Boston 2021 plus a few special guests!
An artist fair will be behind Malden City Hall beginning at 5pm and the films begin at 8pm Each night is different so be sure to come to both!
Choreographers: Lacey Sasso, Brett Michael Bell, Sarah Craver, Amy Foley, Lila Ruth Klaus, Jessica Roseman, Jennifer Binversie, Zara Williams-Nicholas, Meena Chen, Marissa Chura, Brenna Banister, Alexandria Nunweiler, Ruth Benson Levin, Lynn Modell, Anne Goldberg-Baldwin, Cassandre Charles, Christopher Croucher, Collective Moments, Janice Zhai, Monkeyhouse, Rachel Roccoberton, Madison Florence, & Azeb Freitas
This program is supported in part by a grant from the Malden Cultural Council, a local agency which is supported by the Mass Cultural Council, a state agency and the Mass Cultural Council's Project and Festivals grants.
Ticket Information