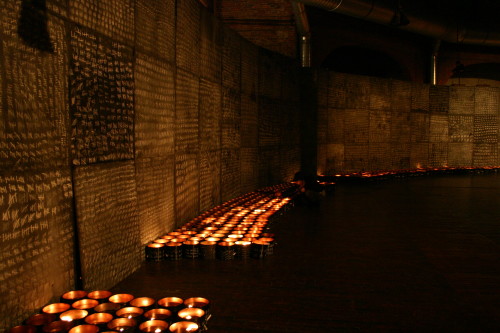 Medicine Wheel Vigil
Medicine Wheel is an epic work of art created by Michael Dowling, Artistic Director of Medicine Wheel Productions.
Produced annually since 1992 in conjunction with World AIDS Day/ A Day With(Out) Art, "Medicine Wheel,"   is a 24-hour vigil with a major sculptural art installation rooted in the Celtic Medicine Wheel and the universal use of the circle as a gathering space to heal, reflect and remember.   For 27 years it has invited people  from every walk of life and every social class together to commemorate the tragedy of the AIDS epidemic, or any loss, in their own communities and worldwide.
This year we will have a series of water walks carrying salt water from Fort Point channel to the Cyclorama  every three hours.
As in years past, all are invited to leave personal mementos such as jewelry, letters, poems, photos and other items in Medicine Wheel.  Objects left are placed within the Wheel's pedestals at the conclusion of the vigil, joining those left in previous years.
Medicine Wheel  Saturday November 30, doors open at 11:00 pm and for the full 24-hours of Sunday  December 1.
Ticket Information