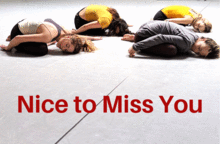 Nice to Miss You: A Natalie Johnson Dance Event
Presented by Natalie Johnson Dance
Natalie Johnson Dance's inaugural Boston performance, "Nice to Miss You" will showcase new and old company repertory. The performance will include the premier of 'Here Now, Thereafter' a dynamic, playful quartet created entirely on the newest company members, as well as excerpts of the original evening-length 'AGEN'.
The show will also feature works by Guest Artists DrumatiX, ProviDANCE Project, and Erin McNulty.
This will be NJD's first full-length production in Boston since moving from NYC. The company has presented choreography throughout NYC, Maine, Massachusetts, Chicago, and North Carolina.
Ticket Information