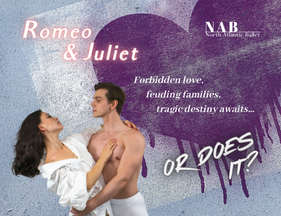 Romeo & Juliet
Presented by North Atlantic Ballet
North Atlantic Ballet presents the world premiere of "Romeo & Juliet," where YOU hold the power to decide the fate of the star-crossed lovers at intermission.
This contemporary twist on the beloved classic explores the complexities of love, power, and wealth. Watch the battle for power over Verona between the Montagues, clad in black and symbolizing new money, and the Capulets, dressed in elegant white, embodying the timeless allure of old wealth. All while Romeo & Juliet fall madly in love.
With every rivalry and every choice, the tension rises, and the stakes couldn't be higher. The excitement mounts as you become an active part of the story, making each performance a unique experience.
Don't miss this action packed performance of new vs old, love vs hate, and choice vs fate.
Ticket Information