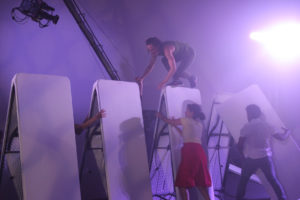 Supper, People On The Move
Silvana Cardell's Supper, People on the Move! has been greeted with rave reviews and packed houses since its 2015 premiere in Philadelphia. This work brims with the emotional power embedded in the examination of the immigrant journey. From this rich and fertile history Cardell creates evocative forms of movement— abstract, personal, universal—performed with unrelenting physicality and striking moments of beauty. During this journey the audience becomes part of the experience, most notably at the conclusion of the work, when it is invited to join the dancers for a humble meal at the dinner table, which has been transformed into various scenic devices throughout the 55-minute performance. A photo exhibition, "People on the Move," by Jennifer Baker, featuring personal stories of Philadelphia-area immigrants, will be on display in the lobby before the show.
Directed and Choreographed by Silvana Cardell, an award-winning choreographer, dancer, and educator, and created to the highly regarded original music of Nick Zammuto, Supper, People on the Move!features dancers of supreme ability and daring physicality: William Robinson, Ama Gora, Maria Urrutia, Zach Svoboda, Mackenzie Morris, Morgan Walker, and special guest performance by Merian Soto.
Ticket Information