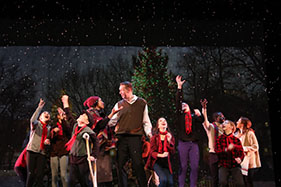 What The Dickens!
Presented by Deborah Mason's CYDP
Weaving contemporary dance, ballet, tap, hip hop, flamenco, projections, narration and more, 'What The Dickens!' is an enchanting dance-theater rendition of Dickens' classic "A Christmas Carol," a timely story of transforming greed into kindness and joy.
Produced by Deborah Mason and directed by Leslie Woodies (Broadway veteran and Boston Ballet alum), 'WHAT THE DICKENS! ' features Cambridge Youth Dance Progam, Boston Ballet alum Clyde Nantais as Ebenezer Scrooge and an amazing roster of guest artists includes Katie Chua /Present Ghost, Yosi Karahashi/Future Ghost, Jenny Oliver/Mrs. Cratchit, Ryan P. Casey/Mr. Cratchit, Ruka Hatua-Saar White (Marley), and Mae Pirani (Past Ghost).
The original choreography and concept by David Drummond. Over the years other choreographic contributors include Ryan P. Casey, Mariano Figuero, Khalid Hill, Corrine Mason, Deborah Mason Dudley, Jenny Oliver, Jeryl Palana Pilapil, Ruka Hatua-Saar White, and Leslie Woodies.
Ticket Information