Save the Date
2023 BDA Open Call and Dancer Health Day
Sunday, September 10, 2023
at Mass Motion
100 Holton St., Brighton, MA
Stay tuned for the teacher and class lineup!
A month past the BDA Gala, we continue to bask in the good wishes and appreciation of our broad and diverse community.
If you couldn't make it in person this year or would like to relive some of the amazing moments of this year's gala, click here to watch for free!
Boston Ballet is saying goodbye to Executive Director Meredith "Max"  Hodges, who will become Chief Executive Officer of The Shed in New York starting in October. Ming Min Hui, the ballet's chief financial officer, will serve as an interim Executive Director during the board's search for Max's successor.
North Atlantic Ballet is moving into a new studio in Everett, MA. After years of searching for the right spot, NAB's home studio will open its doors this September. Keep an eye out for more information on the new space, including an open house, student class registrations, and a behind the scenes look into this new home for dance.
SomArts, an initiative of the Somerville Arts Council, is excited to announce a new space at "the Hive" in Union Square (561 Windsor). They anticipate opening this dance class, rehearsal, and performance space in August/September 2023. This new space will  support artists creating new performance work, centering dance as the primary discipline/form. Read more about this project here!
BODY WORLDS: The Anatomy of Happiness tells the story of the human body and the influence that the emotional phenomenon of 'happiness' has on our health. The legendary BODY WORLDS exhibit seen by more than 54 million people globally presents this brand new exhibition for the first time ever in North America! Open now through January 9, 2024 at The Back Bay Hub at 343 Newbury Street.
The 2023 Newport Dance Festival: From around the Globe to Newport returns to Newport Contemporary Ballet's outdoor festival stage.  Participating artists and dance companies include Amy Hall Garner (NYC), Boston Dance Theatre (MA), Breathing Art Company, (Italy), Dark Circles Contemporary Dance (New Mexico), Tom Gold Dance (NYC), and Anniela Huidobro (Mexico & Chicago). Performances run Tuesday, July 18-Sunday, July 23, at Great Friends Meeting House, 21 Farewell Street, Newport, RI.
Join Moves n' Vibes and Anara from MetaMovements as they delve deep into back to back Technique Workshops to explore spinning, styling, body movement, and musicality. Tuesday, July 18, 7-9 PM at Moves & Vibes Entertainment Co., 44 5th St. Cambridge.
This week at Jacob's Pillow the tap virtuosos of Dorrance Dance take over the Ted Shawn Theatre while Seán Curran Company & Darrah Carr Dance, Mythili Prakash and The School at Jacob's Pillow Contemporary Performance Ensemble perform at the outdoor Henry J. Leir Stage. Performances take place Wednesday, July 19 through Sunday, July 23.
Dancing on the Row welcomes Takechi in a Latin Dance Series! Takechi Ruiz will lead a special Cuban Timba lesson at 6:30 PM, followed by a social dancing & animaciones (group dance) session with DJ Black Mamba until 8 PM. Join this outdoor and all-age event for free! Wednesday, July 19, 6:30-8:00 PM at 375 Assembly Row, Somerville.
Join MetaMovements in Sunset Salsa at the Park at Burlington Mall. Similar to Salsa In The Park, enjoy performances, lessons,animaciones, a music corner, and social dancing on Thursday, July 20, 6:00-8:30 PM, at 75 Middlesex Turnpike, Burlington, MA.
MassCreative presents an online July Policy & Advocacy Webinar where artists, creatives, cultural leaders, and changemakers across the Commonwealth can hear updates on federal, state, and local cultural policy issues and advocacy opportunities.Friday, July 21, 9:30-10:30 AM on Zoom.
Starlight Square's open-air stage in Cambridge's Central Square comes alive with Women of the World, bringing together international musicians, singers, and dancers who will share their unique stories and perspectives through the universal language of music. Friday July 21, 5-9 PM. Free, but reservations requested.
The Jazz Continuum comes to the Bates Dance Festival Friday, July 21-Sunday, July 23 at 7:30 PM. LaTasha Barnes reaches back nearly 100 years, connecting dances that sprang from America's Black Jazz music to dance and music expressions of today such as house, vogue, Lindy hop, hip-hop, hand dances, line dances and more!
Curious about kathak dance and interested in joining classes in the fall? Good news! Chhandika is holding its first summer foundations workshop where you can learn some of the basics of this dynamic dance form. Led by Artistic Director Gretchen Hayden, this three-hour workshop is the perfect way to get a taste of Chhandika's classes and to have some fun. Saturday, July 22, 9 AM-12 PM at Todos Dance Studio, Natick.
For the first time, Learn Bhangra and Boston Bhangra are collaborating on a 90 minute workshop! Don't miss the chance learn bhangra from the experts in the field and have a great time doing it!  No prior dance experience required. Saturday, July 22, 10 AM at Salsa Y Control Dance Studio, 161 Harvard Avenue, Suite 13A (2nd floor) in Allston.
Rosehips Fusion with Caroline Hekate is coming to The Dance Complex in Cambridge. This workshop will teach graceful, undulating movements inspired by belly dance styles and the "petalous philosophies" of a rose. The blossoming of self in unified fields – an unfolding of the creative body led by intuitive, experimental, and classical dance techniques – merges arts and culture. Saturday, July 22, 3:00-4:30 PM.
Get your body moving at the Fringe PVD Festival at an array of dance and somatic classes by regional teachers. Classes are pay-what-you-can, and open to all experiences and abilities. Recommended for ages 16+. Offerings include Feldenkrais Method® with Lila Hurwitz, Cunningham technique with Joshua Tuason, contact improvisation with Stephanie Turner, Gyrokinesis® with Katie Moorhead, contemporary dance with Heidi Henderson and Action Theater with Michelle Erard. It happens Saturday, July 22 and Sunday, July 23, 12–5 PM at WaterFire Arts Center, 475 Valley St. Providence, RI.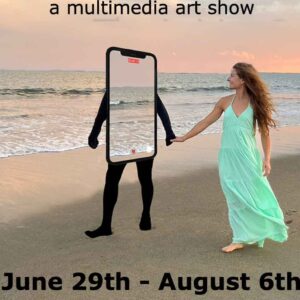 "This Is Not Content" by Moving Dance Company is a multimedia show that explores the human experience in the digital age. The title is a playful reference to René Magritte's surrealist painting, "The Treachery Of Images." As lines blur between online and offline, between technology and nature, and between connection and isolation, we ask: What is content? Who owns content? This show combines mixed media, photography, video, digital art, installations, music, poetry, and dance. Saturday, July 22, 7:00 & 8:30 PM at FPAC at The Envoy, 70a Sleeper Street, Boston.
Get a sneak peek of Ayodele Casel's new solo inspired by legendary jazz drummer Max Roach. Casel is widely recognized for narrative tap works that delve into themes of selfhood, culture, and agency.  Sunday, July 23, 1–3 PM, at the Institute of Contemporary Art, Boston. The open rehearsal is free with museum admission.
Mark you calendars: professional adult dancers are invited to Audition for the Jose Mateo Ballet Theatre's Nutcracker on Monday, July 24, 4 PM, at 400 Harvard St., Cambridge. The show will have 17 performances from December 8-24 at the Strand Theatre, Dorchester. Rehearsals begin November 13. The six week contract will run through December 24. Video Auditions accepted. Send video with resume and photos by July 24 to mfeinberg@ballettheatre.org.
Open Call Audition for Saving Grace Dance Ensemble's 2023-2024 season. Seeking Intermediate/Advanced Adult dancers age 18+. The company is a professional, inspirational dance company with performances in the New England Area in September, November, April, May and June. The audition will consist of a ballet barre and modern/contemporary center work. Apply by Sunday, July 23. Per performance honorariums and weekly rehearsals on Tuesdays 9:30 AM-1:00 PM start September 5 in Southern NH. Audition on July 25, 6 PM at 1 Harvey Road, Bedford, NH.
The cast of Alex Nunweiler's Edge of Aquarius is growing! The Click is seeking one female-identifying dancer (age 21+) to join the main cast. Rehearsals take place in Cambridge on Thursdays 11:30 AM-2:00PM (September through January). Performances will take place January 19-21, 2024. Apply by Friday, July 28.
Foundation for Metrowest has published its guidelines for its early fall grant cycle. Applications open August 14, 9 AM and are due by September 15, 5:00 PM.
Register now for the Boston Tap Party Summer Tap Dance Festival at Deborah Mason Performing Arts Center in Somerville August 3-6 to study with world-class faculty, and pick up your tickets for the Boston Tap Party Faculty and Guest Showcase happening  August 5 at Arts at the Armory, featuring Paul Arslanian leading a live band.
Site specific Sondheim? Oh, yes.
Mid-summer is the time to hone your skills and open your mind to new experiences, and the New England dance community offers so many tantalizing opportunities!
But (shhh….) fall will be here before we know it. Mark your calendars for Sunday, September 10 when BDA returns with our annual Open Call Audition and Dancer Health Day wellness screenings, an amazing day of community building that gets the season off to a rousing start.
But for now, we hope you're getting in some relaxing or adventures — or both!
Best wishes,
__________
Debra Cash, Executive Director