HELLO! my name is… is a virtual event where BCA Dancemakers Lab Residents Audrey MacLean, Laila Franklin, and Wendy Jehlen, will explore  simple human tasks and rituals, climate change and technology, and the ever-shifting landscape of love with Laila Franklin. Join and be part of the conversation! Thursday, March 2, 12 PM via Zoom.
The Boston Center for the Arts hosts Makeda Wallace in #HellaBlack Live MixTape Vol 5: Soul. Makeda is a dancer, Berklee faculty member, and runs Evolve Sol Art Collective. #HellaBlack is an interdisciplinary live mixtape BCA organizes each year to highlight Black artistry from throughout the community. Thursday, March 2, 7:30 PM in person at BCA.
AAHC's Strength for Performing Artists Thursday strength and conditioning class at the Dance Complex is now being taught by Kimberleigh A. Holman, focusing on functional strength training, mobility, and endurance training to target a different segment of the body weekly, while utilizing her love for physical play, dance, and sport to keep classes fun. Price is on a sliding scale.
Combining the gravity-defying moves of hip-hop with elements of vaudeville, robot, tap, and mime, the Wondertwins have honed their distinctive style over four decades as pioneers of street dance. If you didn't catch them at the Dance Complex last week, they perform Friday, March 3, 7:30-8:15 PM at the Providence G Ballroom (100 Dorrance Street, Downtown Providence) with DJ Finesse spinning tracks pre and post-show.
NACHMO Boston is proud to share the work of over 30 local choreographers for the 2023 NACHMO Boston live performance! In order to keep making dance accessible to all members of our community the NACHMO Boston 2023 live performance is pay what you can with suggested donation $20 per person. Performances will be held at The Foundry, 101 Rogers St, Cambridge, on Friday, March 3, 8 PM, Saturday, March 4, 8 PM, and Sunday, March 5, 3 PM.
2023 Winter Workshop with Chris Aiken and Angie Hauser – Contact Improvisation: Principles and Practice. Enliven your CI physical intelligence and emotional resonance through guided practice. This workshop is designed for dancers with some level of experience* and a commitment to a regular CI practice. Because it will be less skill-based and more principle-based, the work will be appropriate for a range of experience levels. Saturday, March 4, 9:30 AM-6 PM, and Sunday, March 5, 1:00 PM-6:30 PM at St Mary Church, 8 Inman St, Cambridge.
Join the first RYZE Sound-off Silent Yoga Dance Party. Starting with DJs on stage & three yoga teachers – each teaching at a different level – you can go back & forth between classes & levels on the three channels in the headphones. The classes are followed by 2 hours of silent disco – dancing to three live DJs at the same time all on different channels of the headphones!
Saturday, March 4, 7-11 PM at the Tatnuck Post, 570 Mill Street, Worcester.
Join Marja Lankinen, the creator of Yoga for Dancers (Y4D), in class to support dancer health and wellness. Y4D's movement methodology roots in therapeutics through yoga, and every class targets strength-training, flexibility, range of motion, joint integrity, structural awareness, recovery, and self-care techniques. Sunday, March 5, 11:00 AM-12:30 PM at the Harvard Dance Center, Studio 1, 66 Garden St., Cambridge. Free and open to the public! Bring a towel or yoga mat. Dancer participants must be 18 years or older. Observers are welcome.
Join an evening of storytelling and ballroom dancing at Harvard Ballroom Dance Team's annual Spring Showcase, VIGNETTES!!!  The show is a collection of stories, from goofy romances to bank robberies, told through ballroom dance and other styles. Vignettes is entirely student-organized, with dozens of talented dancers and guest performers. Saturday, March 4, 5 PM & 8 PM at Lowell Lecture Hall (17 Kirkland St).
Srija Wang presents a Bharatanatyam Recital. Sunday, March 5, 3:30-4:30 PM at Common Street Spiritual Center (13 Common St. Natick, MA).
Nrityarpan, An Offering of Dance, featuring various local South Asian dancers and ensembles on the auspicious occasion of Maha Shivatri is held in North Billerica on March 5, 10 AM-8 PM.
JP Jitterbugs is welcoming Jamica Zion to teach a workshop on slow dancing for lindy hoppers.
She will lead an exploration of the intersection between walking dances (like "ballroomin blues") and lindy hop. This will deepen your mastery of the roots of lindy hop and give you more options to choose from when dancing to slow jazz. Sunday, March 5, 6 PM at First Church in Jamaica Plain Unitarian Universalist.
Three Sunday afternoon workshops with Elizabeth Grushkin in hip hop, latin vibes and jazz begin March 5 3-4:30 PM at  Cambridge Community Center for the Arts (CCCA), 41 Second Street, Cambridge, MA . Pre-Register; Drop-in available.
Audition for Urbanity's Contemporary Summer Intensive. Each summer, intermediate to advanced dancers ages 11-24 are selected for a unique contemporary dance intensive to work with nationally-acclaimed guest artists, Urbanity Dance Company members, and Urbanity's most popular faculty. Students receive 7 hours of daily instruction in ballet, modern, and contemporary technique, as well as supplementary courses in jazz, musical theater, improv, hip hop, and repertory.
The 2023 program runs from July 31 – August 18, at BCA and students may choose one, two or three week sessions. Audition virtually or in-person Saturday, March 4, 3:00-4:30 PM at Urbanity Headquarters or Sunday, April 2, 12:00-1:30PM at Urbanity Central.
Urbanity also hosts an open level Hip Hop Summer Intensive from August 14-18.
Detritus Dance is seeking 1-2 dancers for a 5-10 minute creation based on the legend and lore of witches to be performed at the Cambridge Foundry on April 29th & 30th. Candidates should have contemporary movement experience, comfort with partnering, a curious mind and interest in multimedia art and literature. Rehearsals typically take place Fridays at the Somerville Armory 11:30 AM–2:30 PM, and Sunday afternoons on an adaptable as-needed basis.$15/hr for 10 hrs of rehearsal time and a $150 total performance stipend for Saturday evening show/Sunday matinee. Send a 2 min reel and paragraph of interest to  clairelillianlane@gmail.com and carolinebradbury13@gmail.com. Deadline February 28, 11:59 PM.
The 2023 LEAD Lehman Scholarships offer financial assistance to attend the 2023 Leadership Exchange in Arts and Disability Conference being held in Boston August 27-31 to those who are underrepresented in the fields of cultural (disability) access and arts administration currently working in or pursuing a degree in those fields.  Scholarship amounts vary from $200.00 to $900.00 and will be awarded to twenty-five individuals. In addition to meeting the eligibility criteria, the scholarship candidate must include a brief statement describing the anticipated impact participating in the 2023 LEAD Conference will have on the applicant's career. Deadline to apply is Wednesday, March 15.
Nozama Dance Collective seeks professional contemporary/modern dancers to join the company for the 2023 season and beyond. Apply to audition and expect to hear back by Sunday, March 5. If invited to audition, it will take place on Sunday, March 12, 3-5 PM at Mass Motion Dance in Brighton. Application due Friday, March 3.
College of the Holy Cross seeks visiting part-time dance faculty to teach a total of four courses: two courses during the Fall 2023 semester (begins August 2023) and two courses during the Spring 2024 semester (begins January 2024). The selected candidate will teach at least one African and/or African Diasporic technique (for example: West African, street styles, Afro-Latinx dances, Tap, Jazz and/or social dance rooted in African or African Diasporic aesthetics and dance practices). Candidates will have the opportunity to teach other courses of interest based on area(s) of expertise.  Other course topics could include: dance and culture related to race, colonization, and power; dance making; dance histories; or embodied rhythms.
Bailemos is seeking an organized, friendly, well-spoken individual to manage their team and events. The ideal dance studio marketing assistant is someone with a great deal of organizational background and work experience with a strong knowledge of the dance studio culture, proposes new markets to explore, and creates more opportunities. This is a full-time position and in person 4 days/week with $19.2K-$30.0K/year. Benefits include paid time off and employee discount. Email dancestudiobailemos@gmail.com for more information
The Rhode Island Women's Choreography Project (RIWCP) invites local dancers and choreographers to apply for three weeks of creation this summer! Rehearsals and performances will be held August 7-27, 2023, in Providence, RI. RIWCP seeks to nurture and elevate choreographers whose voices are not traditionally heard. Their project serves any choreographer who feels underrepresented, regardless of their gender identity. They also seek New England-based dancers of all gender expressions. Applications close on Friday, March 3 for choreographers and on Friday, March 10 for dancers.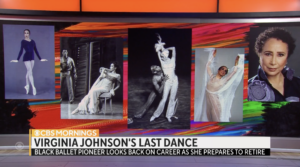 Beauty and perseverance in the legacy of the great Virginia Johnson is a great way to celebrate the conclusion of Black History Month.
The calendar page turns and the spring dance season can't be far behind!
Make sure that you share your workshops and events with Boston Dance Alliance so that we can shine a bright spring spotlight on the breadth and depth of our community. Posting is free, but your membership makes it possible to do what we do, week in and week out!
Thanks for your enthusiasm and support!

__________
Debra Cash, Executive Director