Wheels UP! archival page
WHEELS UP!
Boston Dance Alliance was delighted to convene
Wheels UP!, the New England Town Hall on Physically Integrated Dance on June 15, 2016,  and launch an ongoing BDA initiative to support dance and dancers with disabilities.

NEFA Deputy Director Jane Preston welcomes independent consultant and Wheels UP! presenter Jennifer Calienes and Peter DiMuro, choreographer and Executive Director of The Dance Complex in Cambridge
Dancers, choreographers, presenters, arts administrators, disability activists, state arts accessibility program managers, medical and rehabilitation specialists, special education teachers and more were brought together from across the region to meet at the offices of our partner New England Foundation for the Arts — many for the first time.

Jeremy Alliger, who produced the first International Festival of Wheelchair Dance in Boston in June 1997, reminisces with Judith Smith, co-founder and artistic director of AXIS Dance Company, while Kristen San Miguel of BDA and Daniela Jacobson of NEFA listen.
We shared, we laughed, we brainstormed and we began to strategize about how to create an environment that encourages dancers of all types of ability to participate in the dance we love.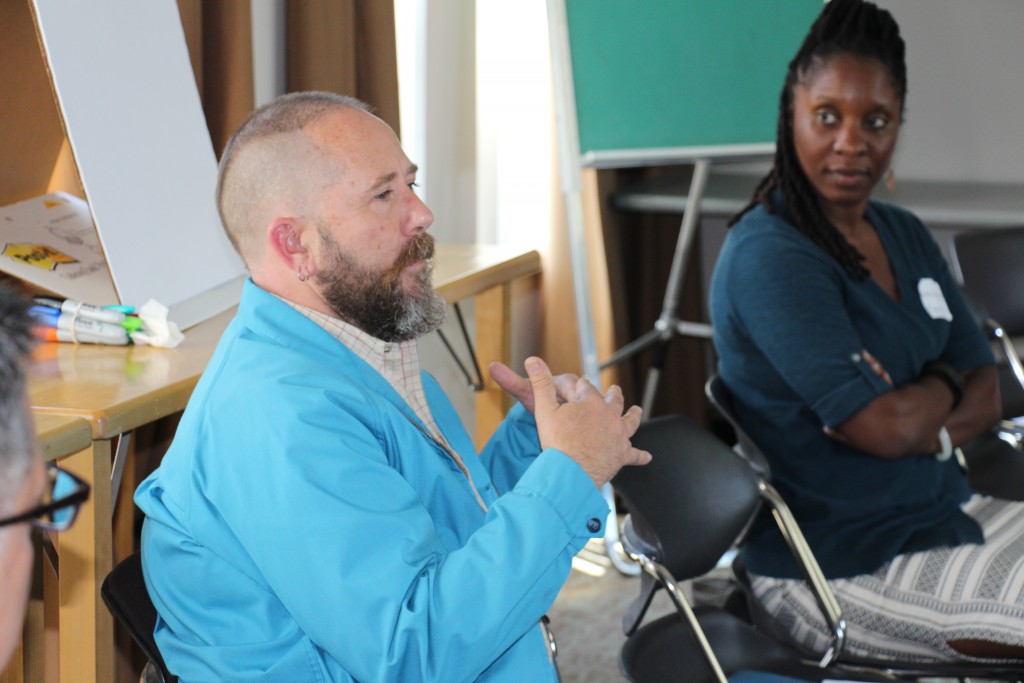 Charles Baldwin, Program Officer for the Massachusetts Cultural Council's UP – Inclusive Design Initiative, makes a point with Aysha Upchurch,  Associate Director of COOL Schools, VSA Massachusetts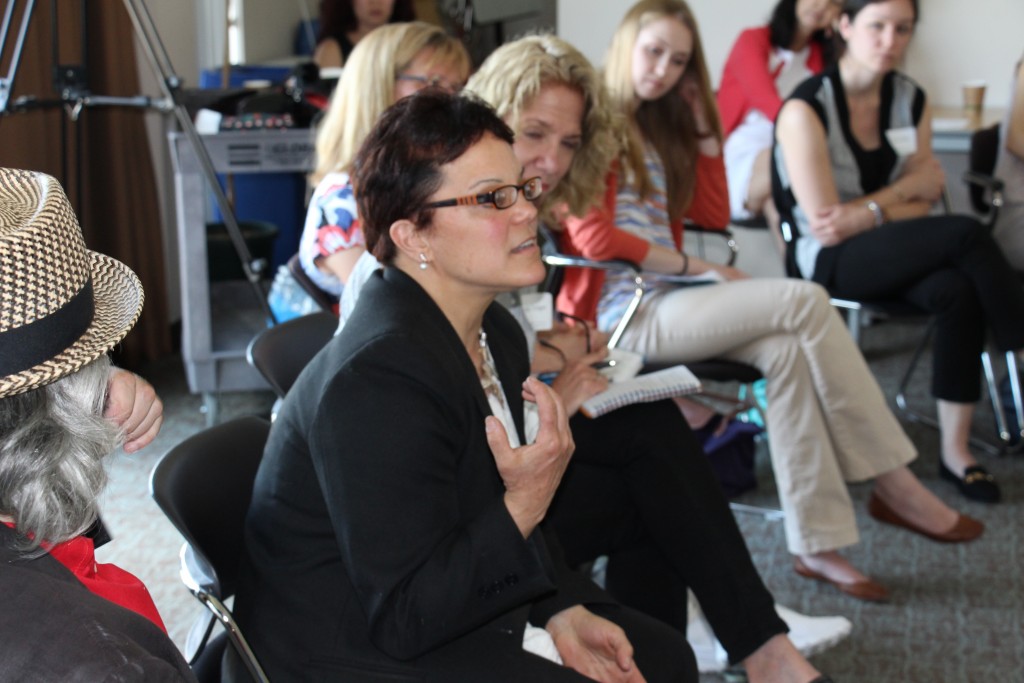 Maryan Amaral of Aero Inc., a dancer with disabilities, shares her experiences leading a Zumba program and personal training for dancers who use wheelchairs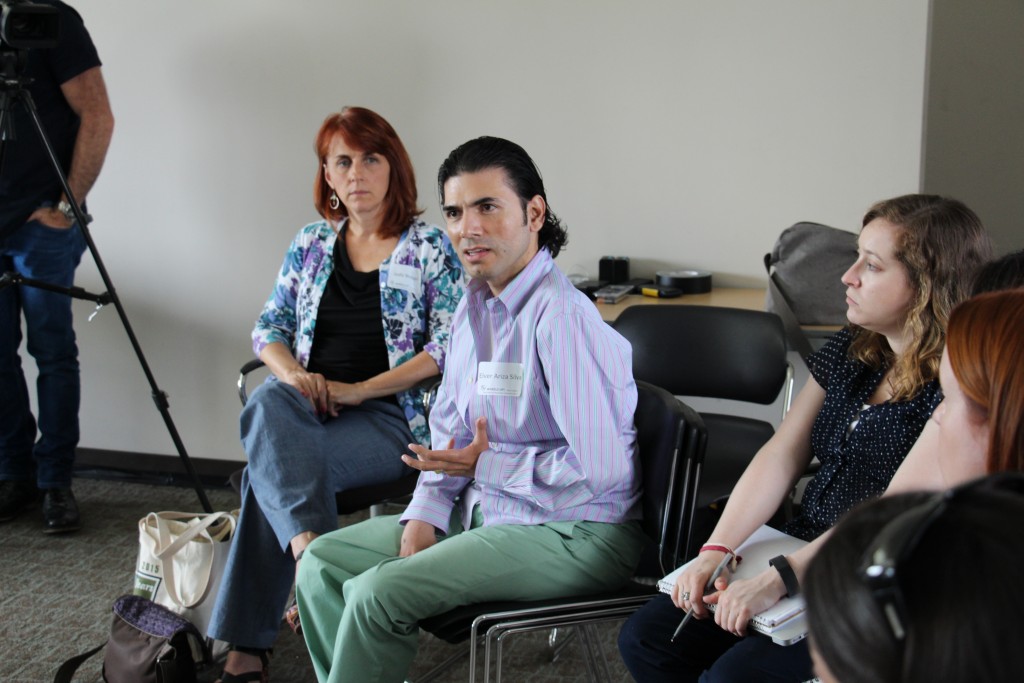 Dancer, actor and vocational rehabilitation expert with disabilities Elvar Ariza-Silva offers suggestions for inclusive practices, along with choreographer and professor Jody Weber, chair of the BDA's Artists Advisory Panel
Listen in on highlights of the conversation here 
Watch the keynote, a conversation between Judith Smith, Founder and Artistic Director of AXIS Dance Company, and Dr. Cheri Blauwet, paralympian, marathon champion, and specialist in Physical Medicine and Rehabilitation at Brigham and Women's Hospital, Boston here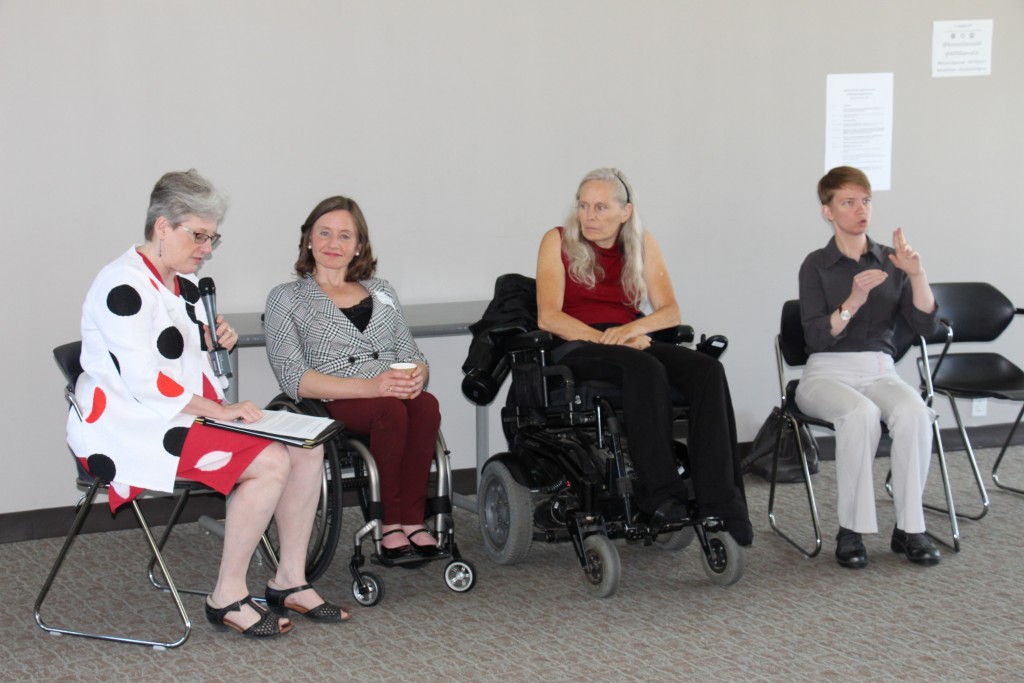 Boston Dance Alliance Executive Director Debra Cash moderates the keynote conversation about art and athleticism between marathon champion Dr. Cheri Blauwet and Judith Smith, with ASL interpretation by Liz Weber.
This part of the day was livestreamed thanks to our friends at HowlRound and with the help of videographer Earnesto Galan.
We are very grateful to our generous lead sponsor, the Barr Foundation, whose support enabled us to provide subsidies for registration and support for adaptive accommodations, including ASL interpretation.
Boston Dance Alliance is also grateful for the partnership of NEFA, AXIS Dance Company, the Flynn Center for the Performing Arts, and VSA Massachusetts, an affiliate of Seven Hills Foundation.
All photos by Ann Wicks/NEFA and are used with permission.