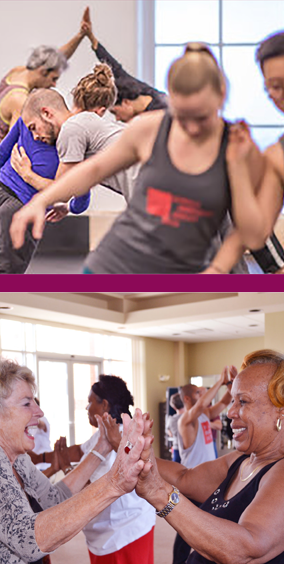 Multi-Generational Community Dance Workshop with Pilobolus
Join FirstWorks and Pilobolus for this exciting creative movement program for teens and adults (ages 14 – 100). Pilobolus dancers and teaching artists will lead participants in a movement class based on physical improvisation. Participants will experience new kinds of movement, creativity, and connection. The class is fun, interesting, and accessible for any level of physical ability. This workshop will get your creative juices flowing, challenge your body and your mind, and open up a world of collaborative and movement-based possibilities.
Pilobolus founders were not dancers – they were curious and interested movers. This workshop underlines the founders' belief that a drive to dance and create is ingrained in our DNA. Whether you train regularly, haven't taken a class in 20 years, or have never danced a step, there is a place for you in this inclusive community workshop. Come, join us!
Ticket Information