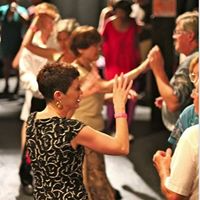 SPEND MOTHER'S DAY DANCING with Dance Caliente!
What better way to celebrate the LIFE your MOMMY gave you than dancing Foxtrots, Salsas, Swings, Argentine Tango and more. You name the dance and we will provide the music!
Eileen and Raul, owners of Dance Caliente are always ready to dance with any guest who is brave enough to ask 🙂 Want a demo, we will be happy to comply. Our parties embrace everyones abilities and we attract the friendliest/kindest guests. So never hesitate to ask each other for a dance.
Need a little sugar fix, you'll find Eileen's homemade chocolate chip cookies along with the nibbles you are welcomed to contribute to the community munch table. We will also provide hot tea and coffee.
Whether you are a Beginner or a Seasoned dancer, coming Alone or With a special someone, this is the right party for you. Everyone is WELCOMED!
Ticket Information