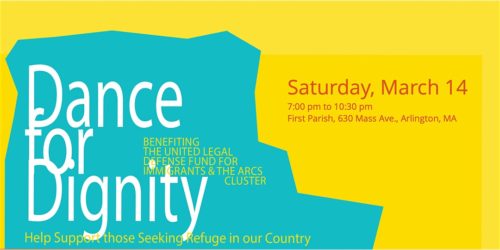 Dance for Dignity Benefit
Presented by The Arlington, Cambridge and Somerville (ArCS) Cluster of RIM and The United Legal Defense Fund for Immigrants
Come join your friends and neighbors for an evening of great music, dancing and camaraderie, while benefiting those seeking refuge in our local communities.
The night will feature the highly danceable music of Stanley and the Undercovers playing classic rock from the '60s and '70s, as well as a range of international desserts. A cash bar will be available.
Have fun while helping reach our goal to raise $25,000 to support local immigrants, refugees and asylum seekers. All proceeds from the event will be shared by two organizations providing important support services for local refugees and immigrants: the Arlington, Cambridge and Somerville (ArCS) Cluster of RIM and the United Legal Defense Fund for Immigrants.
Participatory Dance | Performances
Ticket Information