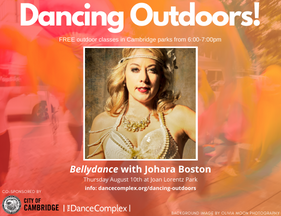 Dancing Outdoors: Bellydance with Johara Boston
Presented by The Dance Complex and City of Cambridge
The Dance Complex and The City of Cambridge present Dancing Outdoors, a series of free outdoor dance classes occurring in Cambridge Parks on select Thursdays throughout July and August! All classes are designed for movers of all levels and are instructed by DC Teaching Artists.
Discover the graceful rhythmic movements of bellydance Learn fiery hip-locks and shimmies along with serpentine undulations and bellyrolls and a fun combination in a supportive class open to everybody.
Wear soft-soled dance shoes or sneakers and comfortable clothes. Hip-scarves of any type are optional.
Learn more about these offerings at dancecomplex.org/dancing-outdoors