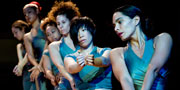 Explore Danza Orgánica's New Work!
Presented by Tony Williams Dance Center
Join Danza Orgánica as we built our new piece based on explore Puerto Rican/Caribbean identity as it pertains to Blackness and miscegenation in Puerto Rico and the Diaspora. Participants will be able to join our warm up, witness our creative process, and learn a section from our repertoire.
Open Conversations | Participatory Dance | Performances
Ticket Information