BDA Fellowship
Introducing
The Boston Dancemakers Residency
Call for Applications 2018–2019 Season
Apply by April 16!
After a decade of successful residency programs, Boston Dance Alliance and Boston Center for the Arts have teamed up to create their newly-designed Boston Dancemakers Residency. Devised to provide two Boston-area artists with resources to research, develop and present original works of dance, the residency encourages dancemakers to take risks, invest time and focus on ensemble work, and dive deeply into the creative process.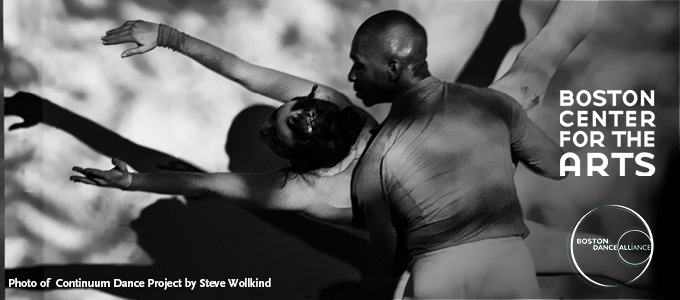 PROGRAM OVERVIEW
The Boston Dancemakers Residency is designed to support experienced dancemakers in the development of original work by providing research, development, rehearsal, financial and production resources. These resources include a regional three-day retreat, six weeks of intensive studio time, discounted rehearsal space, a dancemaker stipend, and rehearsal pay for up to six dancers.
The Boston Dancemakers Residency supports Boston-area dance artists who are striving to develop, adapt or reinvent their creative process. Designed to promote artistic growth, the residency seeks artists with strong choreographic foundations who are driven by curiosity and a bold vision to reach beyond their existing practice. The residency will serve as a laboratory for ideas that are in the exploratory phase and need dedicated time and space to be fully realized. BCA and BDA encourage dancemakers to take risks, invest time and focus in working with their dancers, build the skills to develop and advance original ensemble work and dive deeply into their creative process.
Two Boston-area dancemakers will be invited to participate in the residency program. Each will be awarded:
RETREAT
A three-day, two-night rehearsal retreat at a regional retreat center within 200 miles of Boston.
$100 per day for up to seven people: six dancers, collaborators and choreographer while on retreat.
Lodging, food and reimbursement for mileage to the retreat center.
INTENSIVE
Six weeks of free, exclusive rehearsal and performance space at BCA for an intensive rehearsal and development process.
Additional discounted rehearsal space in Artist Studio Building at BCA for $10/hour, as available, at any point within the residency year.
A stipend of $1500 to be used at the dancemaker or choreographer's discretion.
Payment for up to six dancers for an extended rehearsal Rehearsal hours are paid at $11/hour for up to 72 hours.
Two hours of business and career consulting with Debra Cash, Executive Director of Boston Dance
Two hours of consulting with Sara Nash, Program Director, Dance, New England Foundation for the Arts and/or other NEFA staff.
Administrative, production and marketing facilitation by Andrea Blesso Albuquerque, Dance Program Manager at Boston Center for the Arts.
Twelve hours of artistic mentorship from Andrea Blesso Albuquerque, Dance Program Manager at Boston Center for the Arts.
Peer feedback sessions with fellow resident dancemakers.
SHOWCASE
A fully-produced performance or work-in-progress showing at Boston Center for the Arts during the final week of studio time.
Lighting and production assistance from a technical director.
Access to lighting and sound equipment for showcase performance including risers, pipe and drape, lighting instruments and PA system.
Photographic or video documentation of the performance.
Printed promotional materials produced by BCA such as postcards, showcase programs, posters, press outreach.
Promotion in BCA and BDA program listings and website.
Resident dance artists are invited to perform brief excerpts of their work at the BCA Ball, BDA Gala or other special events.
ELIGIBILITY
Lead artists must be residents of the Boston metropolitan area (within route 495).
Ensemble/company must include a minimum of three local dancers.
Choreographer must have created original work for a minimum of four years and have presented the equivalent of one full evening (60 minutes) of their work within the past two years.
Students enrolled in either undergraduate or graduate programs are not eligible.
Dancemakers/choreographers who have been awarded either BCA Choreographer Residencies or BDA Rehearsal and Retreat Fellowships within the last two years (2015–2016 and 2017–2018) are not eligible to apply for the 2018–2019 season.
Once awarded a Boston Dancemakers Residency, artists must wait at least three full years before reapplying to the program.
Applicants must be current BDA members at the time of application and throughout the residency period.
REQUIREMENTS
The residency must be used to develop new work and the majority of rehearsal time should be dedicated to the proposed project. Selected dancemakers are required to show original work in a performance or work-in-progress showcase at the culmination of their residency, and to list Boston Center for the Arts and Boston Dance Alliance in connection with work that is created or developed during the residency. Choreographers must attend one rehearsal by each of the other 2018–2019 resident dancemakers for peer feedback sessions.
ADDITIONAL ARTIST INFORMATION
For the retreat, the choreographers may bring up to six dancers, or may choose to bring a minimum of three dancers and up to two artistic collaborators, such as a designer, dramaturg or musician. Selected artists will be provided a list of prior retreat sites upon the announcement of their award. Choreographers may also identify alternate regional retreat sites to be negotiated and approved by BDA and BCA.
Rehearsals for the intensive will be held in Martin Hall in the Calderwood Pavilion on the BCA South End Campus. The studio is 25ft x 21ft with hardwood sprung floor, windows and mirrors.
A complete guide with studio schematics is here    Tours of Martin Hall can be arranged by mutual convenience with Andrea Blesso Albuquerque by contacting ablesso@bcaonline.org
HOW TO APPLY
Applications are due on April 16, 2018 by 5 pm
This program is open to a range of dance genres and movement-based artists. We welcome applications from choreographers based in the Greater Boston area (within route 495).
Dancemaker/choreographer stipend for the intensive does not include transportation or housing.
Applicants will be notified of their acceptance by the beginning of June 2018. Incomplete applications will not be considered.
Please apply through the online form here 
Applications will be evaluated on:
The quality of work shown in the video sample and overall level of professionalism displayed.
Proposed concept of work to be developed during the residency.
Unique use of studio space/time. The residency provides multiple avenues of creation. We are interested in how you will use this unique opportunity.
Potential impact on the development of the artist and risk taken in the creative process.
TIMELINE
The 2018–2019 season will include two residencies through the same call for applications. Dancemakers may select six weeks of intensive rehearsal time within the dates listed below.
Tuesday, October 16–Sunday, November 18, 2018
Monday, January 7–Monday, February 4, 2019
Monday, May 13–Monday, June 24, 2019
Andrea Blesso Albuquerque, Dance Program Manager, Boston Center for the Arts  (ablesso@bcaonline.org)  and Debra Cash, Executive Director, Boston Dance Alliance (dcash@bostondancealliance.org) are available to answer questions and provide additional information about the residency.
This special opportunity is made possible in part by the Aliad Fund at The Boston Foundation.