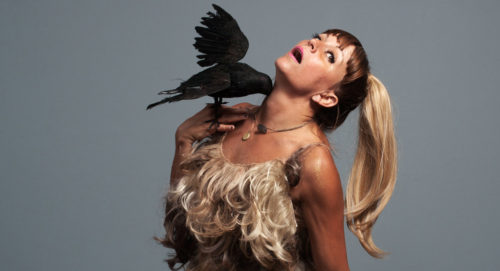 Adrienne Truscott in THIS
Presented by MIT Center for Art, Science & Technology (CAST)
Adrienne Truscott made THIS. THIS is a solo performance which may not always be a solo, created specifically for the New York Live Arts stage. THIS is a small or large or medium act of artistic survivalism and an ever-evolving work that writes, in real time, the libretto of the performance the artist is attempting to do which changes with each performance to reflect the new context brought by the performance at hand. THIS is a run-on sentence. THIS is a grift. THIS is a piece of cake.
THIS plays with presence, memory, authorship, narrative authority, linearity, truth, fiction, autobiography, memoir, creative sources and what demarcates performance, intention, execution. THIS mines some of Truscott's own past and current large group and solo pieces for material available for theft and repurposing. It investigates liminality and the experience of and evaporation of time as it is parsed with memory, embellishment and trauma – and, contemporaneously, allows the performance itself to be influenced by taking on these things in the midst of the current national trauma. THIS also exists in the liminal space of trying to make a piece of art about trauma while being slightly traumatized by the feeling of inadequacy of making art in the current political landscape.
THIS explores the role of the dancer — and the role of the female body — in the real world with a 'hypnotic female spirit. Our personal narratives, like it or not, may be silently hidden in our bones and muscles; THIS and Truscott suggest that maybe, like it or not, performance is memoir. And THIS also suggests that that fact might be gross.
THIS is a brash non-linear confessional that bounces from 2017 feminism to the presidency to unconventional urban living.
Ticket Information