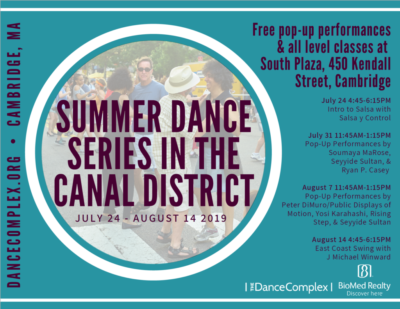 Dance Complex's July Canal District Pop-Up Performances
Presented by The Dance Complex and BioMed
The Dance Complex is popping up around town this July and August with opportunities for FREE dance classes and performances for the community. These events will celebrate the wonder and curiosity of dance for all in accessible settings for our community at large. Through partnerships with the Cambridge Public Library and BioMed Realty, The Dance Complex will bring local artists out into the community, teaching and performing a variety of dance genres.
Soumaya MaRose's performance includes North African dances and Middle Eastern dances as they find roots in a very deep connection with the earth, nature and spirituality.
Seyyide Sultan will be performing Raks Sharqi, a term that in Arabic means "Oriental Dance" and which is the proper name of the Middle Eastern dance style commonly known as "belly dance".
Ryan P. Casey will captivate and entertain passersby with exciting, high-energy tap dance improvisation and performance – and even some audience participation.
Ticket Information