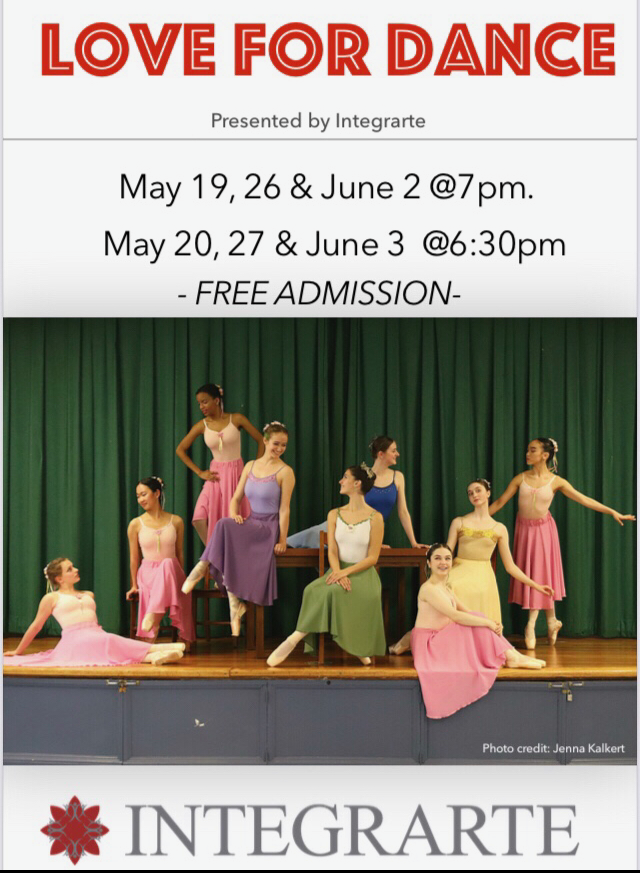 Dance for Love
Presented by Integrarte
LOVE FOR DANCE
Join us to our last Dance program. Three weekends full of Joy, Fun and Exciting dancing !!
Friday May 19, 26 & June 2 Time @7pm
Saturday May 20, 27 & June 3 Time @6:30pm.
OPEN TO ALL -Free admission-
Integrarte's pre-professional ballet students will dance some of the classical repertoire and new contemporary works by Integrarte's contemporary instructor Marissa Molinar, and PP students Sophia Yee and Claire Kim.
Honored to have Guest Artists from "Infinity Dance Collective" Tara McCrystal & Audrey LaValle on ( May 19 ), Ken Pierce with Baroque Dance repertory ( all shows ) Camilla Finlay ( May 20) , Lynn Menegon ( May 27 & June 3) Janelle Gilchrist and Spencer Keith ( June 2) Adult Jazz Ensemble directed by Victoria Kickham ( June 2 & 3) Julia Roberts ( May 27 & June 2) Mar Parrilla & Fran de Paula (June 3)
Entrance to the show: 87 Seaverns Ave. Jamaica Plain ,MA 02130
Ticket Information