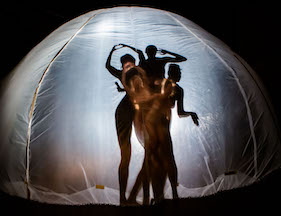 See | Be Seen
Presented by Emily Beattie
See | Be Seen is a mysterious dance trio that conjures female empowerment in shadow and brilliant light. Witnessing the dance from outside the crystalline inflatable, the audience observes the construction of a utopian performance space that only follows the performer's curiosity, whimsy, and pleasure.
Otherworldly performers Emily Beattie, Jennifer Roberts and Cari Ann Shim Sham provide incantations of movement and light. They confront injustice and objectification with powerful healing and reclamation. See | Be Seen creates a luminescent and shadowy world that allows both delicate intimacy and thunderous ferocity free reign.
Prepare to move about the space to view this piece from as many perspectives as you like. If you do come, thank you. We won't see you before, during or after. We will be busy helping this mother take off.
Ticket Information