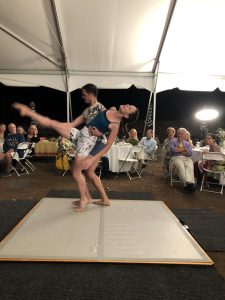 Windhover Gala: Discover the Magic
Presented by Windhover Center for the Performing Arts
Wednesday, August 23 @ 5:00 pm – 9:00 pm
https://windhover.org/event/gala-2023/
SAVE THE DATE FOR WINDHOVER' ANNUAL GALA: Wednesday, August 23, 2023 from 5:00- 9:00pm. Come with friends and enjoy a delicious catered three course dinner provided by beloved chef Melissa Donati of the former Willow Rest in Gloucester. Enjoy a selection of various wines and beers, curated by a sommelier, Featured special performance under the tent by New York's modern dance company Alison Cook Beatty and ensemble. Live music by jazz musician and composer Joe Mulholland. A sit down buffet encourages camaraderie and conversation on the bucolic Windhover grounds. This gathering takes place rain or shine.
Tickets are $125.00 and include the three course dinner, wine, beer, water, sparkling water, plus a featured private dance interlude and live music.
Ticket Information