Jose Mateo Ballet Theatre's The Nutcracker Family Affair will feature select highlights from the beloved Holiday Classic, including snowflakes, soldiers, mice, angels, cherubs, and the Sugar Plum Fairy and her Cavalier of course. Immerse yourself in Clara's journey as you enjoy tasty treats, refreshments, and a wine & beer bar in a Kingdom of the Sweets atmosphere. The event will also feature a Live Holiday Auction with great gift options and much more! Thursday, December 15- Sunday, December 18 at the Sanctuary Theatre, 400 Harvard Street, Cambridge.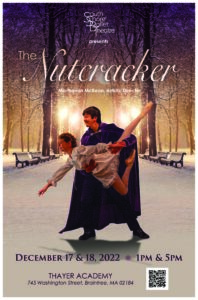 South Shore Ballet Theatre present The Nutcracker. Saturday, December 17 and Sunday, December 18, 1 & 5 PM at the Thayer Academy, 745 Washington St., Braintree, MA.
OrigiNation presents an original play: TAFUTA! A Young Child's Search for the True Meaning of Kwanzaa. Written by Shaumba-Yandje Dibinga, TAFUTA! It blends music, dance, and poetry to tell the story of a young child bullied in school because of his family's tradition of celebrating Kwanzaa. The child ultimately embraces his heritage and draws on the strength found in this African American tradition to triumph over the bullies. Friday, December 16, 10 AM (for schools only) and Saturday, December 17, 3 PM at Roxbury Community College Media Arts Center. For more information or to book your reservation, contact Program Associate Destiny Edwards at destiny@originationinc.org.
Midwinter Revels: A Solstice Celebration, the 52nd annual holiday tradition in Celebration of the Winter Solstice. This year's production shares the music, stories, and dance, of Irish, German and Russian Jewish families and the Mexican nurses they meet on Christmas Eve at Ellis Island in the 1920s. Performances run Friday, December 16-Wednesday, December 28, at the Sanders Theatre, Cambridge. ASL interpreted performances on Friday, December 16 and two performances on Sunday, December 18.
Club Drosselmeyer is an immersive theater show, an interactive Nutcracker in Swingtime with actors, vaudeville routines, cocktails, fabulous outfits and good friends. It's also an innovative, interactive show with a puzzle-y mystery hunt, deep backstory, original musical arrangements, and sugarplums. Friday, December 16-Sunday, December 18, 7 PM, at Cambridge Masonic Temple, 1950 Massachusetts Ave.
Brian O'Donovan's A Celtic Sojourn celebrates two decades of holiday performances! The Christmas-time live version of the show draws on Celtic, Pagan, and Christian traditions to celebrate the music of the season. In 2022, A Christmas Celtic Sojourn will be both live on-stage and virtual for you to enjoy. They wrap their in-person show tour in Boston's Cutler Majestic Theatre with five performances Friday, December 16-Sunday, December 18.  Live virtual performances will be December 20-25 with on-demand streams available December 26 – January 2.
North Atlantic Ballet welcomes back their annual telling of The Nutcracker. Artistic Director Lucy Warren-Whitman brings the stage to life with her contemporary twist on Clara's journey to The Land of Sweets. Friday, December 16 – Sunday, December 18 at The Cabot Theater, 286 Cabot St, Beverly, MA.
Anthony Williams' "Urban Nutcracker," the modern Boston-centric holiday classic, celebrates its 21st season this December! The live in-person performances run Saturday, December 17- Friday, December 23 at the Boch Center Shubert Theatre. The performances showcase winter scenes set in present-day downtown Boston, blending the rhythms of Duke Ellington with the classical music of Tchaikovsky. Anchored by classical ballet, the performances also include a broad range of dance forms such as tap, hip-hop, flamenco, and jazz, accompanied by a live orchestra of local musicians.
Join Cape Cod Ballroom Dancers and DJ Ron Gursky at their Holiday Dance. Light refreshments will be served and there is a special door prize to help you stay warm this winter! Saturday, December 17, 7-10 PM at Betsy's Ballroom, 528 Forest Road, Yarmouth. Semi formal or formal holiday dress suggested.
Tax Considerations for Artists in the Gig Economy Webinar
Michael Wetmore, Partner, & Chloe Parker, Senior Manager, from the CPA firm Ryan & Wetmore, PC will guide artists through five key ideas to comply with U.S. taxes when working in the gig economy. These topics are relevant to artists with and without disabilities across mediums: musicians, visual artists, actors, filmmakers, authors, designers, and more. Monday, December 12, 1-2 PM via zoom.
Dancing Joy with Dance Caliente is an Interactive Ballroom Dance Show designed to sweep you off your feet! Not only will we perform dances like the Waltz, Argentine Tango and more but after each visual delight, you will be invited to learn some of the moves! Free on Tuesday, December 13, 2:30- 3:30 PM at 25 Concord Rd, Billerica, MA.
The Dance Complex welcomes Laura Sánchez and Jessica Roseman in their next Learning to Walk the Talk Series event Making Dance While a Mother on Tuesday, December 13 at 6 PM. This discussion-based event will feature dialogue between Sánchez and Roseman as they swap stories and experiences, all relating to creating dance while balancing motherhood. Audience members are welcome to engage in the discussion. Registration is required and talk will take place at Complex@Canal  (650 E. Kendall St. Cambridge, MA) and online.
Cassidy Holden brings his Orleans Kids back to Boston Swing Central! Join the fun on Friday, December 16 with a Beginner swing dance lesson  8-9 PM and open swing dancing from 9:00-11:45 PM at the Q Ballroom, 26 New Street, Suite 3, Cambridge, MA. Proof of full vaccination and at least one booster is required for all tickets purchased. Masks are required.
Power of Skirts Free Performance Join Isaura Oliveira and her dancers in celebrating the wisdom and healing power of nature through storytelling, dance, drums, and a community performance to heal hearts. They'll perform "Power of Skirts" performance in choreographic development, and "Natureza", a demonstration of the BPL Brazilian Dance Class Series. Saturday, December 17, 12:30-1:45 PM at the Roxbury Branch Library, 149 Dudley St.
Seeking 30 dancers for Havilland Pre-Premiere, a tale of a 5 year old boy from Mumbai who goes missing while out with his older sister,  Rehearsal's begin Monday December 12 at MAGMA Gloucester. Rehearsals will be to recreate a dance sequence.
Rehearsal times are as follows:
Monday 11:30 AM-3 PM
Tuesday 10:30 AM-3 PM
Wednesday 1:45 PM-4 PM
Thursday 1:45 PM-4 PM
Friday 11:45 AM-3 PM
Reach out to charmaintaylor1105@gmail.com
for more information
Choreographers, kick start your new year with National Choreography Month (NACHMO) Boston. Get creating during the month of January 2023. Live shows will be in early March and dance-on-films will be presented in May. Conversational applications are open now and for the first time, NACHMO Boston is able to offer all programming free of charge for participants.
Festivals & Projects grants of $2,500 are available to nonprofits, festivals, municipalities, and businesses to support publicly-available cultural activities from the Mass Cultural Council. Application deadline: Thursday, December 15.
Registration for Winter/Spring 2023 dance classes at Deborah Abel Dance are now open! There are classes in modern dance, creative movement and street funk for ages 5 to adult! To learn more and register, email managingdirector@deborahabeldance.org
Debra just adopted a rescue Australian shepherd mix and is inspired by this two-species duet to the inimitable Dolly Parton!
Holiday cheer is wonderful, but don't forget to give yourself time to relax and enjoy it.
Boston Dance Alliance is grateful for your end of year donation and BDA memberships — for yourself or a friend!
Both make free services like this weekly Pro/Motion newsletter possible, and we can't continue to do it without your support.
Thank you so much!

__________
Debra Cash, Executive Director