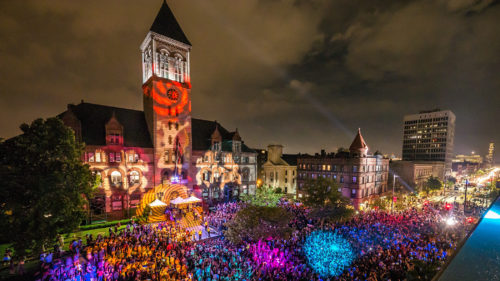 Cambridge Dance Party
Presented by City of Cambridge
Join thousands of Cambridge residents and visitors who will gather on Mass. Ave. in front of Cambridge City Hall for the City's annual Dance Party. This portion of the street, between Inman and Bigelow at the heart of Central Square, will be closed to traffic from 7-11 p.m. This event is free and open to the public. MBTA: Red Line to Central Square.
The annual dance extravaganza with DJ spun music is a special opportunity for the entire Cambridge community to celebrate summer. After dark, colorful lights will be launched, adding to the magic of the evening.
Originally conceived in 1996 as part of the 150th-anniversary celebration of Cambridge, the Dance Party returns each year attracting young and old to join in the festivities! The event is free and open to the public.
PLEASE NOTE: MBTA #1 Bus Line will terminate in Central Square at 6 p.m. and resume full service at 11:30 p.m. (take the Red Line subway to travel between Central & Harvard Squares). Closest subway stop to the Dance Party is Central Square, then two blocks to City Hall.