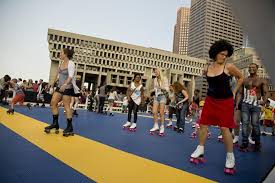 Donna Summer Roller Disco
Presented by City of Boston
The annual Donna Summer Roller Disco is back!
Get your groove on at our 6th annual roller disco party honoring five-time Grammy winner and Boston native, Donna Summer!
DJ Vince 1 will play Donna Summer's biggest hits and other popular disco songs. Plus, O'Mega Red,will perform in tribute to her.
— A roller skating rink with free skate rental!
— Food trucks and water stations!
— Live art and interactive exhibits!
— Appearances from O'Mega Red and other members of the Summer family!!!
Try out your roller disco moves on the skating rink! If you don't have your own skates, the City of Boston will be providing free rentals on a first-come, first-serve basis.