DONT MISS YOUR CHANCE TO TAKE A MASTER CLASS WITH
Adriana Suarez for ballet
Heidi Henderson for modern/contemporary
Michelle Chasse for jazz/musical theatre/commercial
Aysha Upchurch for hip hop
REGISTER NOW for BDA's 2021 OPEN CALL AUDITION
Sunday, September 19th at Mass Motion Dance in Brighton
+
DANCER HEALTH DAY wellness screenings by some of  Boston's best
dance medicine experts!
Dancers must be 18+ and all participants including choreographers, staff and volunteers must be masked and show proof of completed vaccination or negative Covid-19 test in past 72 hours.
Volunteer and get a free wellness exam plus one year's Dance Participant membership!  Contact dcash@bostondancealliance.org for details.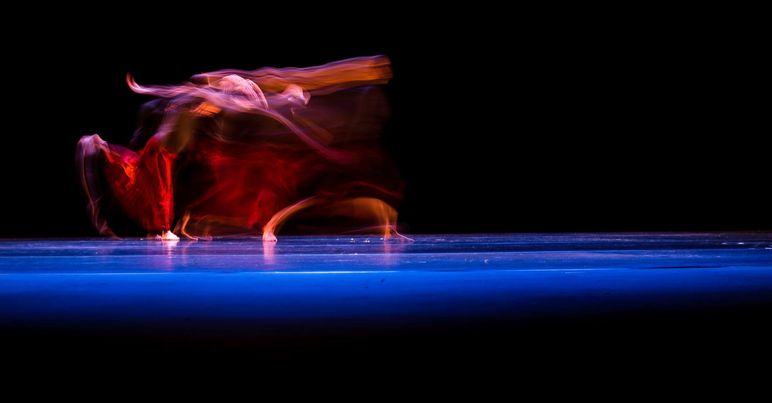 Salem State University faculty Betsy Miller, Meghan McLyman, Michelle Deane and Laila Franklin and alumni Lindsey McGovern and Jake Crawford create a special, in person program in collaboration with their colleagues on Sept 9 at 7:30 PM. 
A young Black boy dreams of dancing in this exuberant, buoyant picture book celebrating the beauty of dance, and the wonder of Black Boy Joy in a new book by Cantabrigian Kaija Langley. The author talks online with Jacqueline Woodson through Porter Square Books on September 10 at 7 PM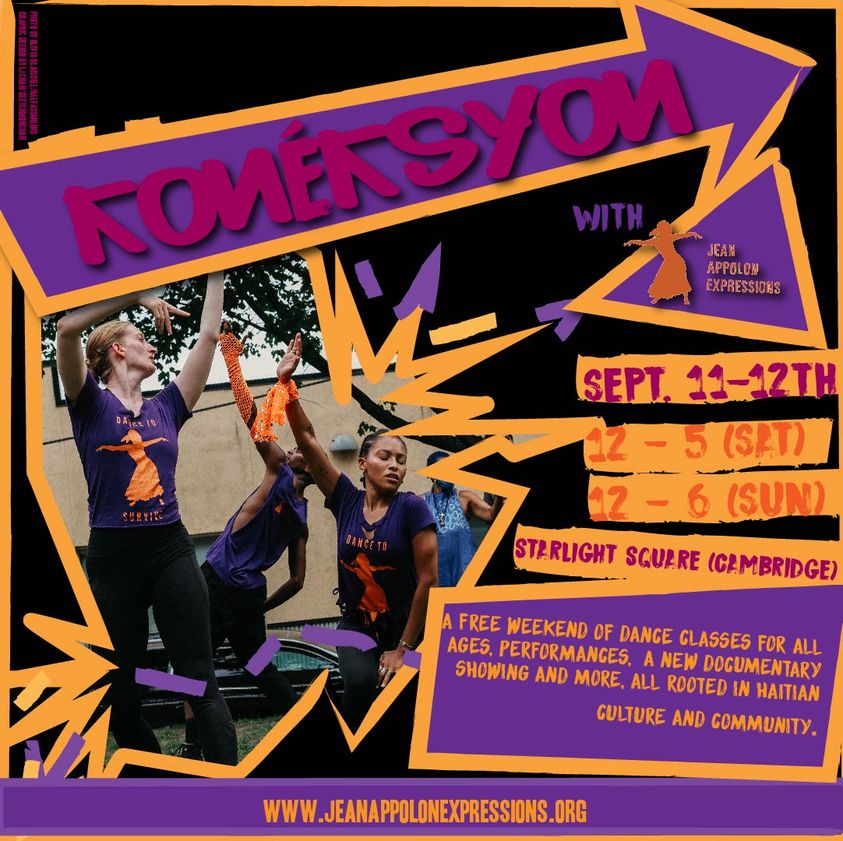 Saturday, September 11th from 1:00-4:30pm and Sunday, September 12th from 1:00-5:00pm Jean Appolon Expressions takes over Starlight Square in Cambridge, with KONÉKSYON featuring dance classes, performance demos. and community conversations for all ages! Pre-registration is required for these free events.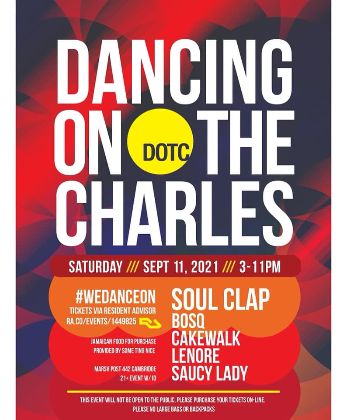 Dancing on the Charles with Soul Clap and friends invites the community to join the outdoor party and enjoy Jamaican food and a cash bar. September 11 from 3-11 PM. Tickets required, 21+ event w/ valid ID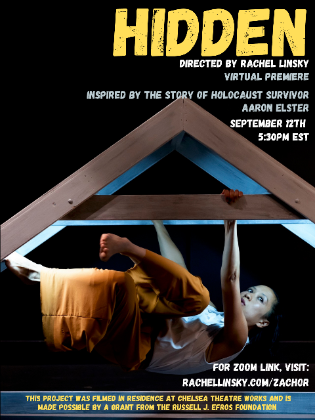 Experience the digital premier of Hidden by Rachel Linsky September 12th at 5:30 PM, a dance film inspired by the story of Holocaust Survivor Aaron Elster. The film, presented on Zoom, will be followed by a Q&A session between audience members, artists, and Aaron's son Steven Elster.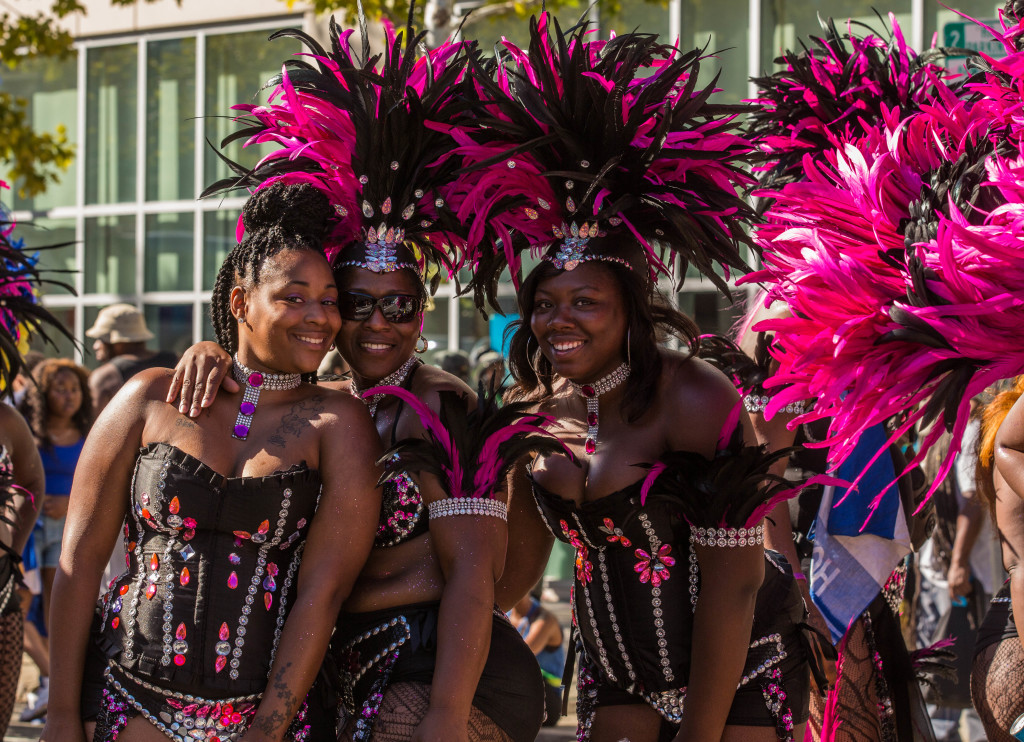 The 27th Cambridge Carnival Festival is happening on Sunday, September 12 from 11 am-5 pm at University Park, rain or shine! Enjoy the parade 12:30 p.m. – 4 p.m.featuring steel bands, music, costumes, and dancing in the streets. and the arts and crafts, food trucks, and activities for kids all day.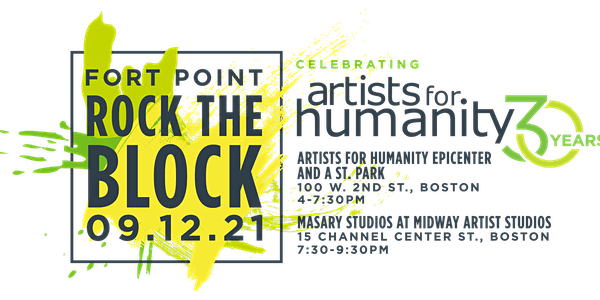 Artists For Humanity and the Fort Point Cultural District celebrate with a special community party celebrating AFH's 30th anniversary on Sunday September 12 featuring immersive music, art, food and projections. Dance includes Urbanity Dance — and you! The event starts at 4 and runs through 9:30 PM and it's all free.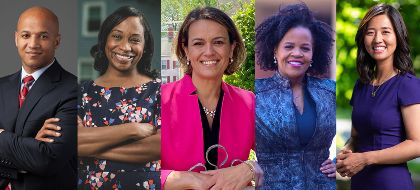 Create the Vote Boston 2021 Boston Mayoral Candidate Forum on Art, Culture, and Creativity happens Thursday, September 9th with a Boston Mayoral Candidate Forum on Art, Culture, and Creativity moderated by WBUR arts and culture reporter Cristela Guerra.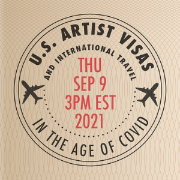 Hoping to collaborate with or present international artists in the months ahead? September 9, 3-4:15 PM you can sign up to either participate in a webinar or get the recording for a discussion about what it takes to secure U.S. artist visas and navigate COVID-19 travel restrictions right now.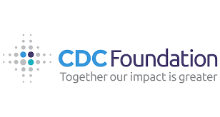 Dance covid away! The CDC Foundationis making grants to 30 organizations nationwide that use arts and culture to build vaccine confidence in communities with low COVID vaccination rates. You must have a proven track record of successfully creating impactful, educational work. Deadline October 14 at noon.
NUTCRACKER SEASON RESUMES THIS WINTER!
Auditions for Nutcracker performances have begun, and on Sunday Sept 12, Tony Williams holds its youth auditions for Urban Nutcracker, and  Dance Prism auditions in Concord, MA for dancers of all ages.
TEACHING JOBS!
Ballet, Jazz, Tap! 
Dance teachers are needed by Jose Mateo Ballet Theatre in Cambridge, by Danceartists Ballet Academy in Shrewsbury, and by Dance With Energy in Weymouth! BDA keeps track of these listings for you here  and we encourage everyone to post their jobs to keep our dancers working! Posting is free, but BDA membership is very much appreciated to keep this service going.
Physical therapist Melissa Buffer, a longtime provider of dance medicine services at BDA's Open Call Audition and Dancer Health Day , has started a new blog that addresses the challenges that face dancers as they return to the stage.